WELCOME TO THE
GENES IN SPACE
CHALLENGE
Who can participate?

You must live in the USA and be in grades 7-12
You can work alone or in a team of up to 2 students
You must be available to present at the Genes in Space finals at the ISS Research & Development Conference in Boston, MA from July 29 - August 1, 2024.

We encourage you to seek mentorship from
a teacher, parent, or another science enthusiast
TIMELINE
Open
January 10, 2024
Develop your idea
Submit
April 15, 2024
Awardees & semifinalists
May 1, 2024
Finalists
May 20, 2024
Mentoring
June - July
Winners announced
August 1, 2024
Space Biology Camp
Fall 2024
Your DNA experiment in space
2025
AWARDS
Finalists, Honorable Mentions, Junior Scientist Awardees and Constellation Awardees will receive complete P51 Fluorescence Biotechnology Kits for their schools. Each kit includes a class set of P51 Fluorescence Viewers, a classroom set of micropipettes, micropipette tips and a Learning Lab kit - an $800 value.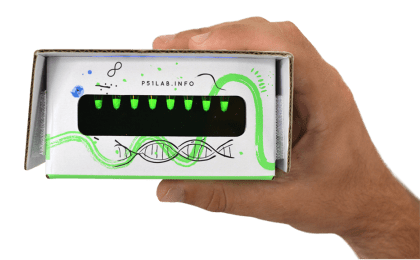 30
Semifinalists
Provide a short video pitch on your experiment for a chance to advance as a Finalist.
5
Finalists
Receive mentoring from Harvard and MIT scientists.
Present proposals to the Genes in Space judges for a chance to win.
1
Genes in Space Winner
Participate in Space Biology Camp to prepare your experiment for space travel.
Travel to Kennedy Space Center to see the launch.
Launch your DNA experiment to space!
5
Junior Scientist Awards
For students in grades 7-8 with outstanding ideas.
5
Constellation Awards
For the schools with the most
submissions from each of
the five regions of the U.S.
10
Honorable Mentions
For teams whose proposals
display remarkable scientific
rigor and creativity.
FAQ
What is the deadline again?
You must submit your experimental idea online on or before April 15, 2024 at 11:59pm PDT.
Do I need any biotechnology equipment or access to a lab to enter the competition?
No. Your submission will be judged on creative and scientific merit of your idea. If selected as the winner, you will attend Space Biology Camp to prepare your experiment for space travel.
Does my experiment need to use Polymerase Chain Reaction (PCR)?
Not necessarily! You may use any tool in the Genes in Space toolkit - alone or together. However, access to these tools or prior knowledge of how to use them is not required.
Can I access other molecular biology tools aboard the ISS?
For the purposes of your proposal, yes. Your Genes in Space proposal may include any tool that is necessary for your experiment. For example, many prior Genes in Space experiments have involved analysis by gel electrophoresis after samples have been returned to Earth. Genes in Space-6 incorporated CRISPR and direct DNA sequencing of samples amplified on-orbit. Genes in Space winners will work alongside their mentors, astronauts, and space biologists to push the boundaries of DNA analysis in space!
What biotech equipment will finalist schools be awarded?
If I win, will my experiment be done in space?
Yes! The winning experimental design will be conducted aboard the International Space Station, pending approval from The ISS National Laboratory. The exact launch date will be determined after winners are announced.
Can my experiment utilize quantitative PCR (qPCR)?
miniPCR is a conventional (end point) PCR thermal cycler. However, you can propose an experiment that uses quantitative PCR (also referred to as real-time PCR or qPCR). It won't affect your chances of winning the competition.
How will I know if I win?
Where can I find information about previous finalists?
Where will the finals round of the 2024 competition be held?
2024 finalists will present their ideas to contest judges at the ISS Research & Development Conference, which will be held July 29 - August 1, 2024 in Boston, MA. At least one student from each finalist team must be available to present at the conference.
I have so many great ideas, can I submit more than one proposal to the Genes in Space contest?
No, not to the same Genes in Space contest. We can only accept one proposal per student per contest year. However you are welcome to participate in Genes in Space every year that you are eligible. That means you can submit your best idea this year and save your other ideas to submit in future years. 
I don't attend school in the United States. Can I participate?
Unfortunately no, the current Genes in Space contest is only open to students in 7-12 grade in the United States. In 2016 we offered a contest in the United Arab Emirates and hope to offer more international contests in the future.  
Can I form a team with students from different schools?
Absolutely! In fact, our 2018 winning team was made up of students from different high schools.
I am homeschooled. Can I participate?
Yes! We welcome submissions from homeschooled students.
My question has not been answered. What do I do if I have another question?