Lab in a Box year two update
The Lab in a Box biotechnology loaner program is now more than halfway through our second year. This school year we have made a total of fourteen loans to schools all across the country (North Carolina, Utah, Massachusetts, West Virginia, Wyoming, Texas, Florida, Mississippi, Kentucky, Idaho, New York, Michigan, and Colorado).  Because of these loans, nearly 900 middle and high school students gained hands-on experience with DNA analysis equipment and techniques, many for the first time. 
Genes in Space is SO proud of the impact we have had on educators and students through the Lab in a Box program and we are excited to continue our efforts to bring hands-on science to classrooms. We plan to ship eleven more loans before the end of the 2018-2019 school year and hope to continue the loaner program in the 2019-2020 school year. If you are interested in receiving a loan next year, you can add yourself to our waiting list HERE. 
Below are some photos from two schools who participated in Lab in a Box this school year.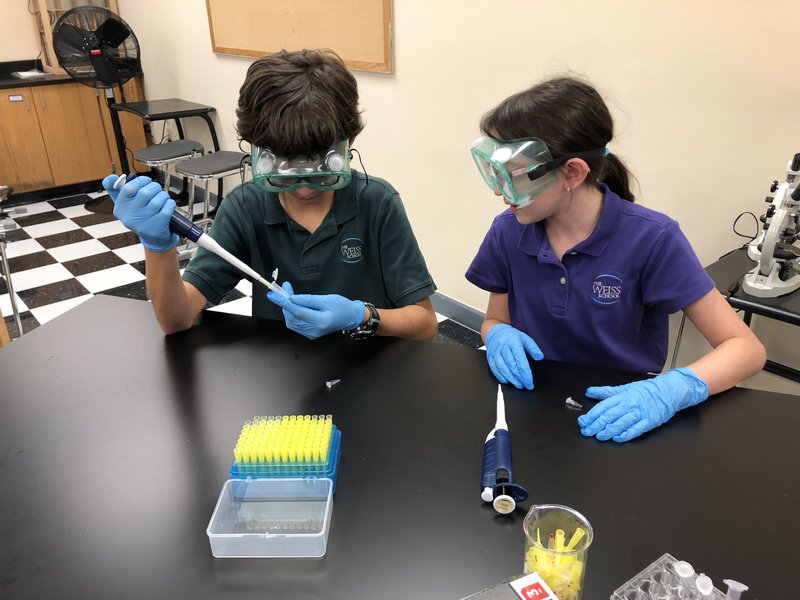 The Weiss School, Palm Beach Gardens, Florida 
For several years students in Mr. Simmons' middle school science classes have participated in the Genes in Space contest and other space-related activities.They even built and launched a CubeSat! When Mr. Simmons heard about the Lab in a Box program he jumped at the opportunity to apply for a loan and give his students a chance to experience PCR and gel electrophoresis in a hands-on way as opposed to watching videos. The students were excited to participate and learned valuable lessons in the process. "[They] made a lot of mistakes, but would do this every day if they could," Mr. Simmons reported, "The students want to fly experiments to the ISS. This is good practice and helps them think about the experiments to be flown." Thank you to Mr. Simmons and his students and best of luck on your Genes in Space applications this year! Check out the photos from The Weiss School below: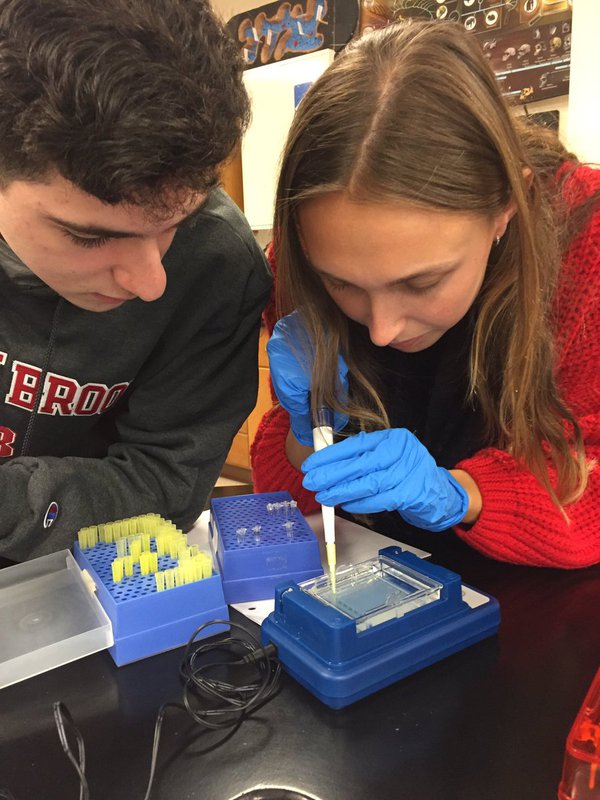 Lynbrook High School, Lynbrook, New York 
This is the second year that Mr. Vessalico brought the Lab in a Box curriculum to his students. Last year participating in the loaner program inspired many of Mr. Vessalico's students to apply to Genes in Space and one, Kaylie Hausknecht, became a 2018 Genes in Space Finalist.  This year's class must have been so excited to participate in the loaner program. "I can't tell you how many students said out loud, 'This is so cool!' during the lab," wrote Mr. Vessalico, "By giving students access to equipment that can manipulate these molecules [DNA], allows them to better imagine this invisible world. When we watch the gels run in real time I can literally see my students begin to understand that DNA is charged, DNA can be amplified, and DNA can be cut by restriction enzymes." Thank you so much to Mr. Vessalico for being a great Lab in a Box participant and for mentoring so many students as they write Genes in Space proposals! Check out photos from Lynbrook High School below: