Introducing Hatch Memorial Prize for Mentorship Recipient Bess Miller
In less than a month, the winner of Genes in Space 2023 will be selected at the International Space Station Research and Development Conference. There, the 2023 John Hatch Memorial Prize in Mentorship will also be presented to veteran mentor and Harvard PhD candidate Bess Miller. Bess has formerly advised two winning proposals, and as the Hatch Prize honoree, she will join our judges' panel and take part in selecting our 2023 winner.
The Hatch Prize is funded by the Hatch family, with additional support from New England Biolabs.
Bess reflects on mentorship and what receiving the Hatch Prize means to her below: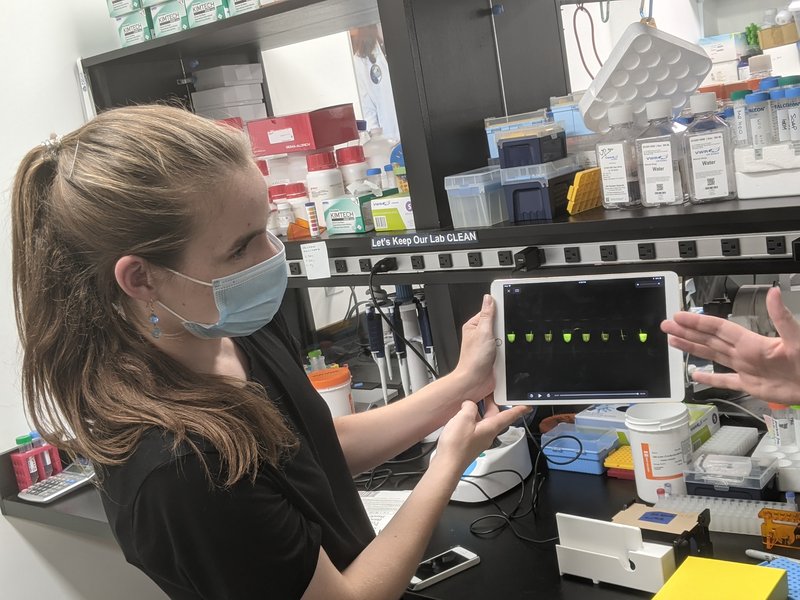 Bess, providing critical science support at Space Biology Camp (Genes in Space 9)
The word "mentor" can be traced back to the Odyssey – when Odysseus sails from Ithaca to fight in the Trojan war, he entrusts his young son Telemachus to the care of his friend, Mentor. This nicely prefigures our modern idea of mentorship, in which to be a mentor is both a privilege and a responsibility. Mentoring relationships have grown to encompass not solely a one-way transfer of information from mentor to mentee, but a reciprocal exchange of knowledge, trust, and support that enriches the lives of both participants. The Genes in Space community exemplifies modern mentorship at its best, in which people come together over a shared passion to learn and grow in themselves.
To receive the John Hatch Memorial Prize in Mentorship from the Genes in Space community is a tremendous honor. Knowing the care and attention that the Genes in Space community devotes to mentorship and having been fortunate enough to be friends with John, I am truthfully humbled to be thought worthy of that legacy.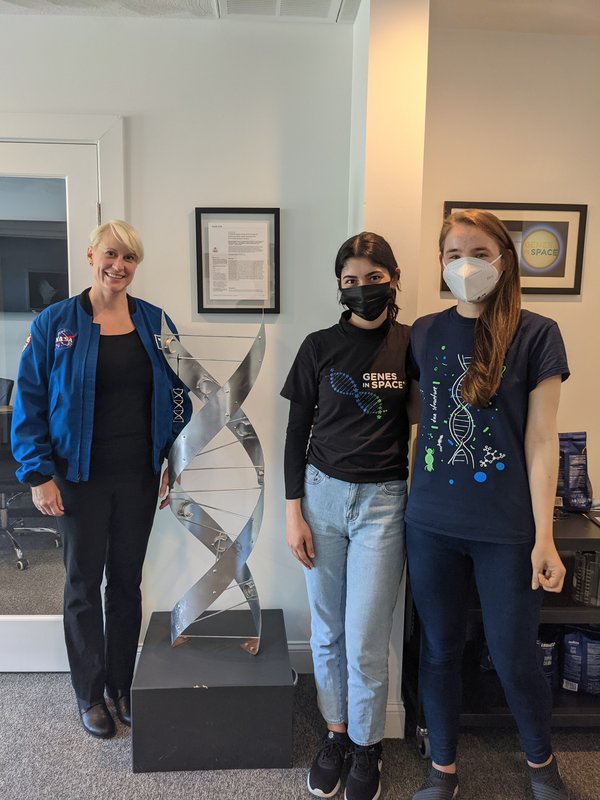 Bess Miller (Right) with astronaut Kate Rubins and Genes in Space 9 winner Selin Kocalar
I am indebted to John for introducing me to Genes in Space in the first place and for taking me under his wing as a first-time mentor. Since joining Genes in Space, I have had the privilege to work with three amazing young scientists on their projects. Getting to work with and learn from my mentees has been an exceptionally enriching and rewarding experience, and their creativity, passion, and intellectual drive leave me greatly excited for the future of our field.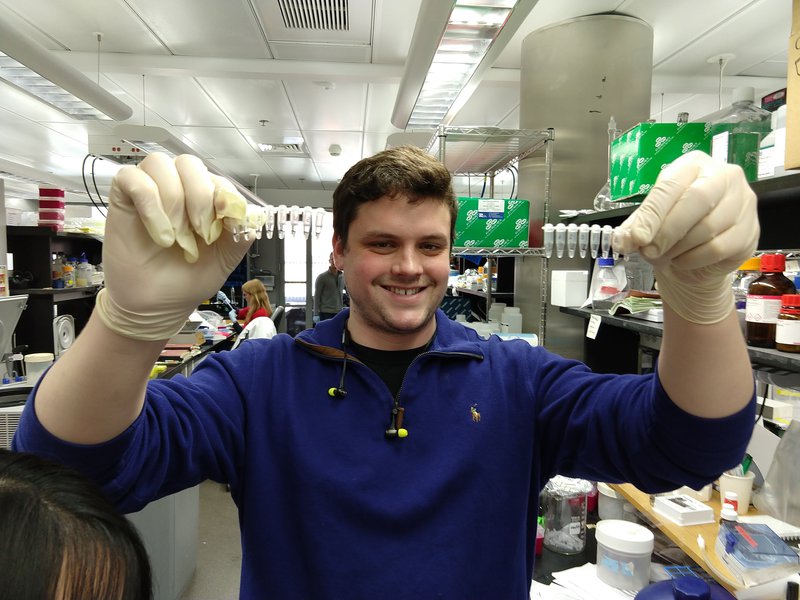 Harvard University PhD candidate and veteran mentor John Hatch
John modeled mentorship at its finest. His approach combined scientific rigor with a deep and abiding regard for his student's lives and goals, making sure that they were not just focused on one competition, but rather on gaining skills and knowledge they would be able to bring to future endeavors. He was extremely supportive of his mentees – even in the middle of 16-hour experiments he was genuinely ready to help troubleshoot a protocol or just commiserate about an experiment gone wrong. At the 2019 finals, in Atlanta, John frequently remarked that he would consider it a success if all the students had fun and enjoyed themselves. When anyone started to get too downcast or take things too seriously, John was ready with a joke or word of encouragement to lighten the mood, including kicking off the opening scavenger hunt at the aquarium with a buoyant and reassuring speech.
We frequently refer to the Genes in Space "community" and that really is an accurate descriptor. It is an amazing resource to have so many other dedicated, thoughtful individuals to learn from. I am deeply grateful to John and all of my fellow mentors for being so ready to share their experience and knowledge. This is truly a remarkable group of people, and so to receive this award is a wonderful honor.