Hatch Memorial Prize in Mentorship presented to Matt Smith
Last week at the ISS Research & Development Conference, we crowned a new Genes in Space winner. But that wasn't the only award we presented. We also presented the 2022 John Hatch Memorial Prize in Mentorship to veteran mentor Dr. Matt Smith. As Hatch Prize honoree, Matt joined our judges' panel and took part in selecting our 2022 winner.
The Hatch Prize is funded by the Hatch family, with additional support from New England Biolabs.
Matt reflects on what the Hatch Prize means to him below.
---
Mentorship represents the opportunity to learn with a mentee by sharing knowledge, honest perspectives, and serving as a reliable source of support. It is represented by a multi-directional flow of information between mentor, mentee, and the community. It is a unique relationship where hierarchies can be flattened and people can come together as their authentic selves to learn and grow from one another. To be a part of the Genes in Space community is to be surrounded by individuals who live these values.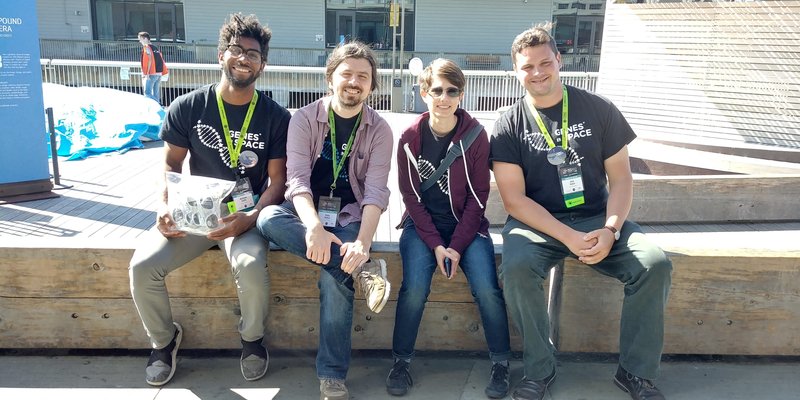 Matt (left) with his fellow mentors at the 2018 ISS R&D Conference
It is an overwhelming honor to receive the John Hatch Memorial Prize in Mentorship from the Genes in Space community. Knowing that this award 1) represents part of John, who to me was an inspiring mentor, brilliant scientist, and exceptional friend and 2) that this comes from the GiS community which is full of deserving individuals.
John Hatch exemplified these concepts of an outstanding mentor through his ability to share complex concepts with each mentee, while being able maintain his positive and hilarious self. John always made it a priority to share his time and knowledge whenever asked, and he did it in a way that never made others feel self conscious or like a burden. He consistently made himself accessible to his GiS mentees and treated students with the same respect he would treat a Harvard professor; John fully showed up.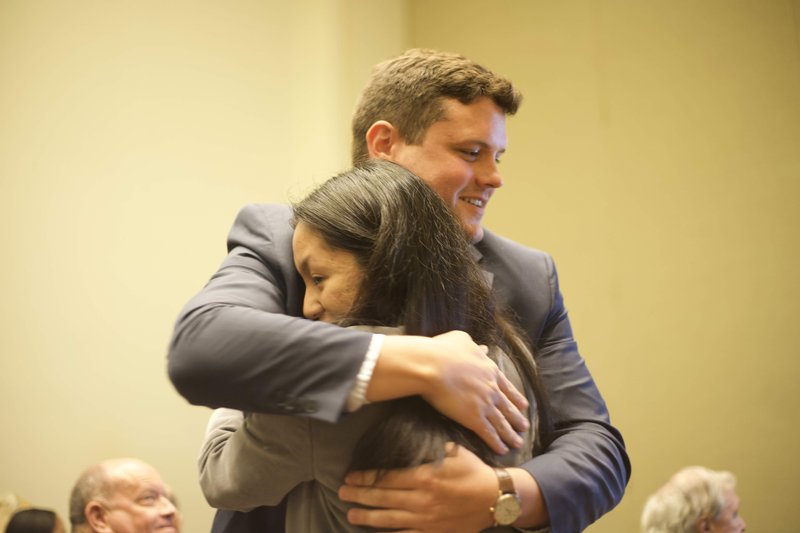 John Hatch with one of his 2018 mentees
I consider myself to be one of those lucky people who got to learn from and be inspired by John. John encouraged me to apply to become a mentor with Genes in Space, which led me to joining the GiS community in early 2018. Since joining GiS, I've had the privilege of mentoring three outstanding teams, all of whom have left me feeling excited for a future led by these incredibly talented scientists.
A special part of being involved with Genes in Space is having so many other individuals there to support you, and this creates part of the Genes in Space community. As a mentor and mentee it's a valuable resource to tap others to fill gaps in knowledge or provide a fresh perspective. And it is truly remarkable to observe the long lasting relationships formed through the Genes in Space community across all levels of involvement. For me, being able to connect and sustain a supportive relationship with students has been such a rewarding part of mentoring with GiS.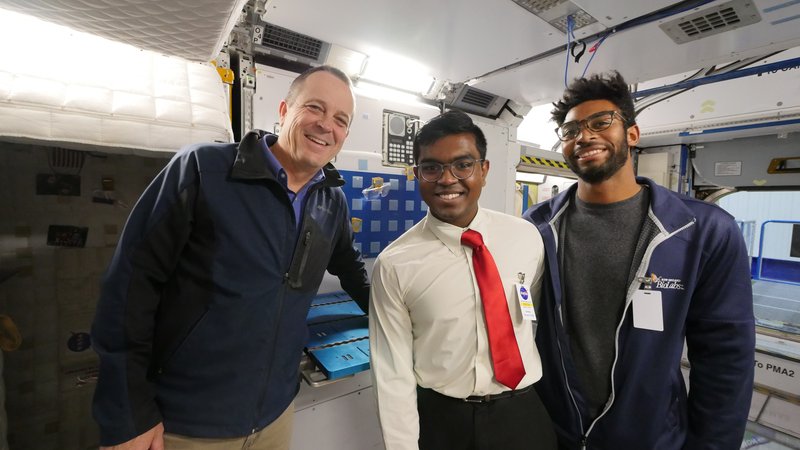 Matt (right) with Astronaut Ricky Arnold and Genes in Space 2019 winner Finsam Samson
A distinct memory I have comes from John facilitating community building during the first moments mentors, mentees, and families were all meeting in-person at the ISS R&D conference in 2019. John took the floor to give a pep talk to everyone, and in a brilliant way, acknowledged the accomplishments, quelled nerves and encouraged teams to get to know each other through a warm welcome to the GiS community.
I am truly honored to receive the John Hatch Memorial Prize in Mentorship from such an exceptional group of individuals. I feel reminded that a good mentor can leave ripple effects of positivity, encouragement, and inspiration that will continue to spread and multiply in their effect for a long time to come.
---