GiS Spotlight: Junior Scientist Award winning team - STEM Scouts
The Junior Scientist Award recognizes the top five outstanding proposals by middle school teams. Here STEM Scouts Gitanjali Rao (12), William Chen (13), Tobey Switzer (15), and Alex Casillas (14) from Lonetree Colorado describe their award winning project and share their advice for future Genes in Space contestants. 
---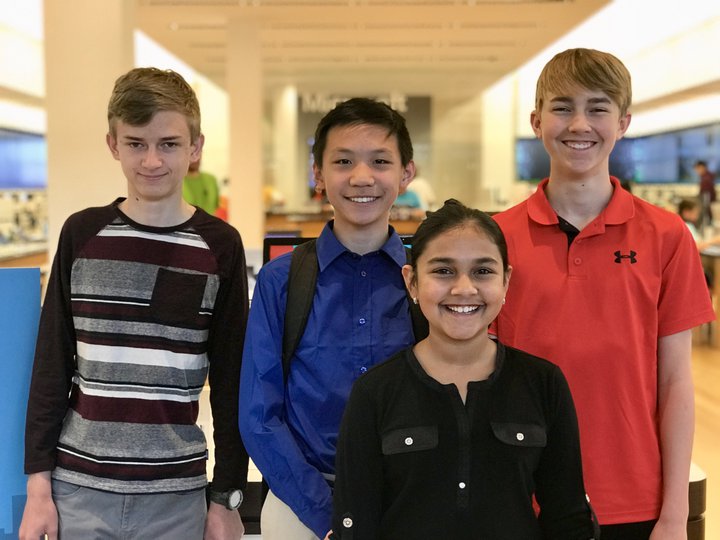 Briefly explain your experiment:
We proposed to use PCR to isolate the IAA genes, so it can be studied. The IAA gene is one that has been found to be linked to growth in trees, so we hypothesized that altering this gene in space will show us similar plant growth.
Why did you choose to participate in Genes in Space?
We chose to participate in Genes in Space because we thought it would be a great experience to learn and come together as a group. Our mentor (Kaitlyn Elliott) found about the Genes in Space contest and showed it to us. We as a group decided it would be an awesome experience and started brainstorming ideas!
How did you choose your topic?
While researching for the Genes in Space contest, our group came upon an interesting discovery made by some scientists. They had discovered a gene linked to plant growth in trees. Thinking this might be universal to plants, we submitted our entry about this IAA gene. We found that potentially increasing the growth rate and efficiency of plants can help lead to more space exploration and can be more cost-effective than current techniques out there today and we decided that this can help many astronauts.
What did you gain by participating in Genes in Space?
We learned more about properties of genes and various growth hormones. Before we participated in the Genes in Space challenge, we had no idea what PCR or gene editing was. Through research and the help of our mentor, we learned that we can change the way organisms behave in natural surroundings using various methods of gene editing. We also did many PCR simulations to understand how we would go through the PCR process in a lab. The Genes in Space challenge was one of the best learning experiences and we hope that others find it beneficial as well.
Do you have any advice for future Genes in Space contestants?
To any potential contestants, I wish you luck! It will be hard work, lots of research, and very very rewarding. If you are willing to commit all your effort and intelligence into this one challenge, you will do well and succeed. Remember, the only time success comes before work is in the dictionary!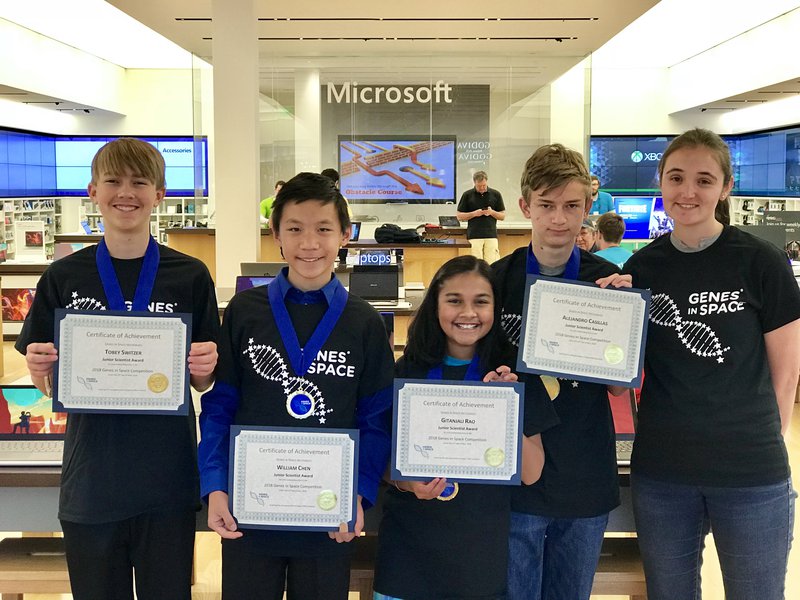 Gitanjali Rao (12), William Chen (13), Tobey Switzer (15), and Alex Casillas (14) with their mentor Kaitlyn Elliot