GiS Spotlight: 2019 Finalists Kevin Chen & Alexa Knee
 On July 31 at the ISS Research & Development Conference, the 5 Genes in Space Finalist teams will present their proposals to the distinguished group of judges that will select a winner. The GiS Spotlight offers you a chance to get to know the Finalists before their big day.
Meet Kevin Chen (16) and Alexa Knee (17), who make up one of the five Finalist teams. Kevin and Alexa are classmates at Smithtown High School East in Saint James, New York, and worked together to develop their proposal under the guidance of their teacher, Maria Zeitlin. Here, they share how Ms. Zeitlin's research course equipped them to write a winning Genes in Space proposal, and explain how their mentor helped them see the purpose of their experiment in a new light.
---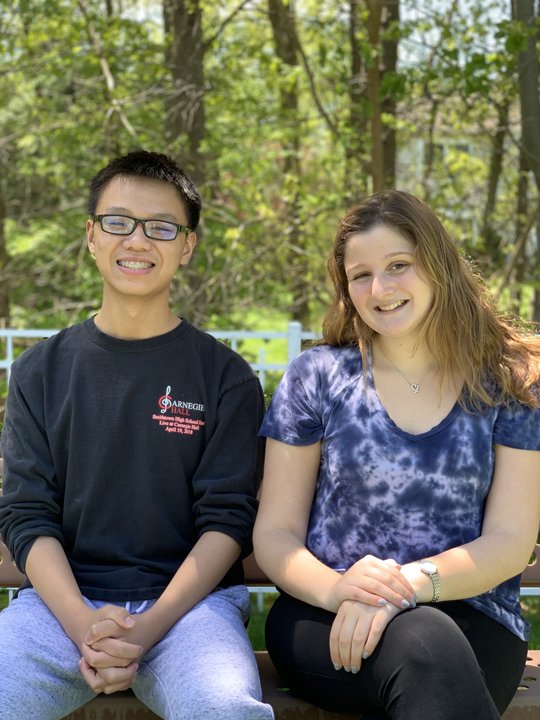 Finalists Kevin Chen & Alexa Knee
What inspired you to apply to Genes in Space? Our research teacher, Ms. Zeitlin, gave us the suggestion to create a proposal for Genes in Space. When we heard about this competition, we were so excited. Both of us are so passionate about science and love learning about space exploration. The competition sounded like a wonderful opportunity that would both interest and challenge us, so we knew we had to send in our ideas.
How did you first become interested in science and space? Science has always been part of our future career aspirations and we both enjoy learning about and experiencing science ever since we were exposed to it at a young age. Our 10th grade AP biology teacher helped to foster our love of science and vastly expanded our appreciation for new fields. Our school's research program also helped us grow and become exposed to many different types of science: from doing field work at a local river to growing plants in our classroom and doing psychological experiments, we learned to apply to basic scientific principles to a variety of studies. When we discovered the field of biological space science, we immediately became interested and combined our previous knowledge of science as well as our curiosity about the unknown of space to explore new ideas and experiments.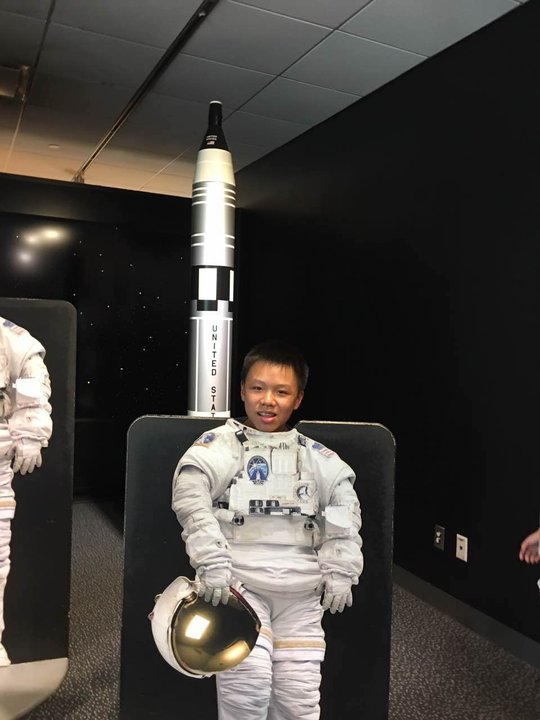 Kevin is ready for launch
Tell us a little bit about your topic. How and why did you choose your topic? We proposed to look at how our cellular powerhouse, the mitochondria, counteracts damaging agents caused by space conditions since, like the nucleus, the mitochondria also has its own DNA repair capacity. When astronauts enter space, many cellular functions and gene expressions change as a result of a difference in the magnitude of gravitational force as well as the constant exposure to ionizing radiation. It is important to understand how our cells defend themselves against these changes and how these changes may impact our body. We propose to use PCR and RNA-sequencing techniques to evaluate the efficiency of mitochondrial DNA repair in space as well as its effect on neuronal function.
One of us — Kevin — has worked in a biochemical lab at Stony Brook University and has looked into how our cells are affected by and respond to DNA-damaging agents. With Kevin's passion in studying a specific DNA repair mechanism, base excision repair (BER), we decided that looking at BER in space would be an interesting project as it was a topic we had previous background in, but now we are experimenting with it in a unique environment that we know little about.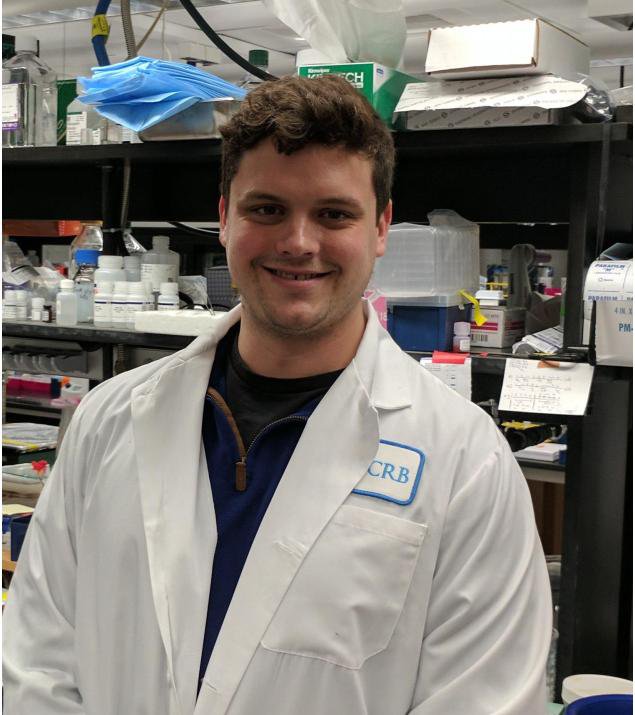 Kevin & Alexa's mentor, Harvard scientist John Hatch
Tell us a little bit about what you have been working on since the Genes in Space Finalist announcement. What has it been like to work with your mentor? Since the exciting Genes in Space Finalist announcement, we have been fine-tuning our project and experimental procedure with the help of our mentor, John Hatch. We narrowed down which previous studies were most applicable to our experiment and focused our time on understanding the nuances of DNA repair and its significance in our lives. We have been brainstorming ways to coagulate all the data we have and deciding on the best way to present our idea.  
Ever since we were connected to John, he's been an amazing mentor through the months prior to the presentation. He helped us stay on track and guides us along the way without deterring us from our own ideas or special characteristics. He emphasized that it is important that we stay true to our own ideas and take his ideas into consideration as suggestions rather than a must. He has taught us how to think and present like real scientists and we are extremely grateful for that. John was very interactive and was fun to work with during our video calls and proposal revision process. A memorable moment during one of our calls was when he told us that essentially the point we want to make during the presentation is that "we don't want to send astronauts into space and have their brain come out of their ear."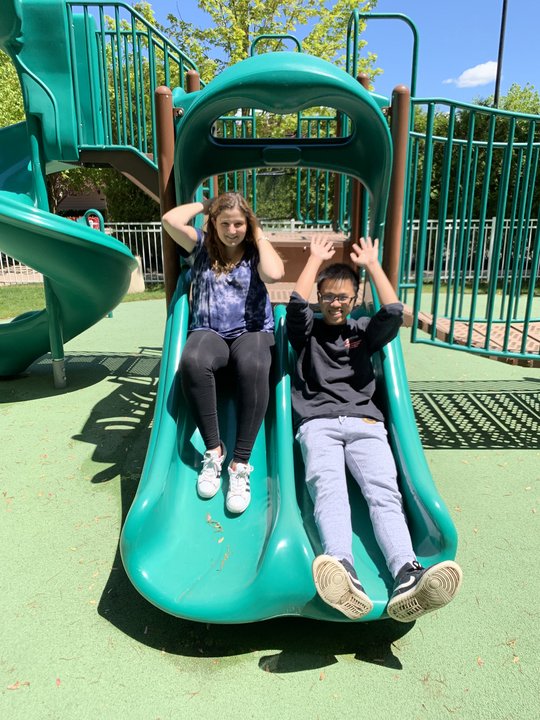 Alexa and Kevin take a break from their research
What have you gained by participating in Genes in Space? Through participating in Genes in Space, we were able to truly understand how much about the universe we do not understand. It is so great to think that our experiment has the potential to contribute to the little that we do know about space. It's like a dream to be chosen to present our ideas to astronauts and professional scientists and have the possibility of having it actually conducted on the ISS, especially when we are only high schoolers. Additionally, working with our mentor, John, has shown us what it will be like working on the high-level research we will strive for in our future.
Do you have any advice for future Genes in Space contestants?
 Future Genes in Space contestants should begin to work on their proposal many months before it is due so they have the opportunity to adjust their ideas as they continually learn more about their specific topic. Basically, don't procrastinate!
You should definitely choose a topic that you are passionate about or you'll find it extremely boring to read through all the journal articles and hinder yourself from your own personal thoughts. Also, don't be scared to ask questions to your teachers or the Genes in Space crew if you don't understand something. They're all there to help! The goal is to write a proposal that is original and holds the potential to contribute to future research and exploration.
---