Winners look back at the 2019 Genes in Space Finals
Last month, Finsam Samson and Yujie Wang from Troy, Michigan were named winners of the 5th U.S. Genes in Space competition. Their win capped off an action-packed week at the ISS Research & Development Conference, where five Finalist teams presented their proposals to our judges for a chance to launch their science to the ISS.
Finsam and Yujie are now knee-deep in launch preparations, but we caught up with them to re-live the conference events through their eyes. Below, the team shares their journey through the Genes in Space Finals.
---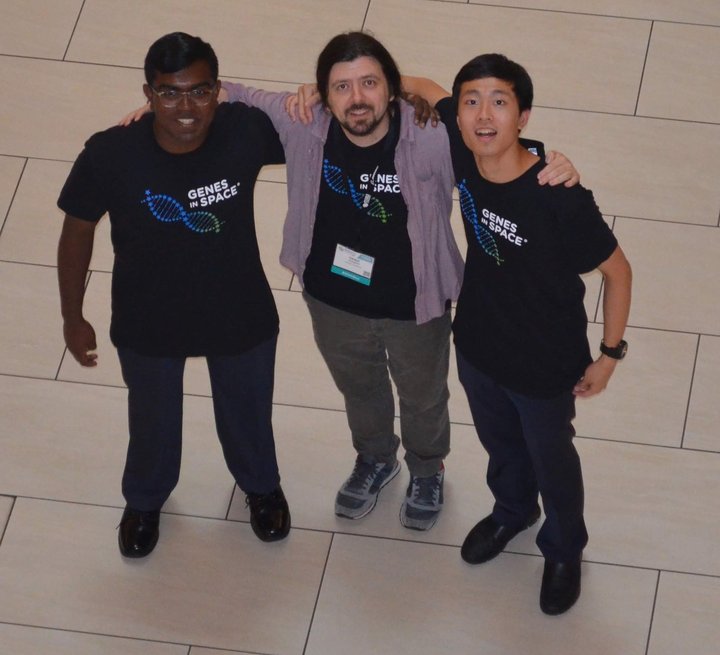 Finsam & Yujie with their mentor, Dr. Deniz Atabay
How did you prepare for the Finals? We read. We knew we had to develop a good experiment and know how to execute it. We modified procedures so they would work in space and read papers to understand those procedures conceptually. Making the slides and practicing was much easier after reading background research ⁠— some of it passed on to us by our mentor, [MIT scientist] Deniz [Atabay], and some from papers we found ourselves. In the weeks before the Finals, we worked hard on the slides, clarifying the content and practicing frequently. Deniz was a huge help throughout, clarifying points we were stuck on and recommending research to read.
What was it like being at the conference? Before our presentation, we met some awesome new people and attended talks and networking sessions about the current state of space. The diversity of interests were astounding! We heard about topics such commercialization, filmmaking, and education, which we didn't really expect in space.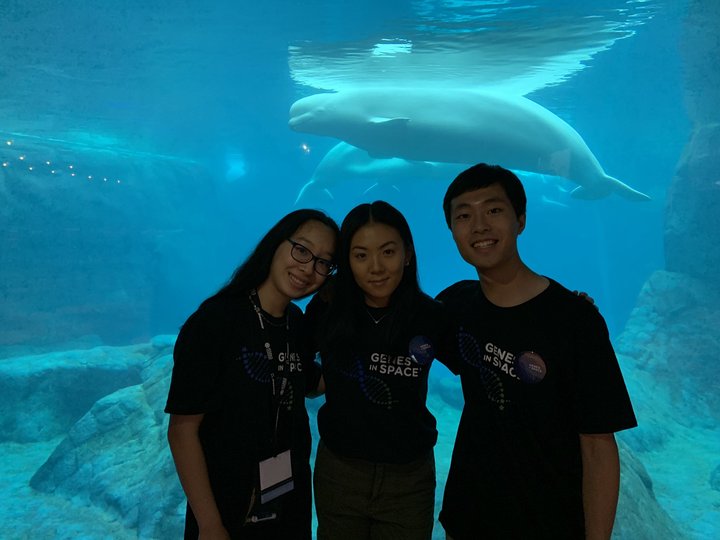 On an aquarium scavenger hunt with Finalists Claire Jin and Vivian Yee
Among the awesome new people we met were the other Finalist teams, who we teamed up with for a scavenger hunt. It was so cool meeting others like us who loved biology and space.
Finsam, you were a Finalist in 2016. How was this year's trip different from your last time at the conference? I learned that research aboard the ISS progresses and grows at a rapid pace. In the years between attending my first conference and this year's conference, I kept up with developments in space research, and grew as an investigator. This made me excited to attend the conference again, to see all the exciting new work being conducted. For example, I recall seeing a poster in 2016 about new methods utilizing microgravity to fabricate metals. This year, I attended a presentation about the cost-effective fabrication of fiber optic cables in space, which I found interesting.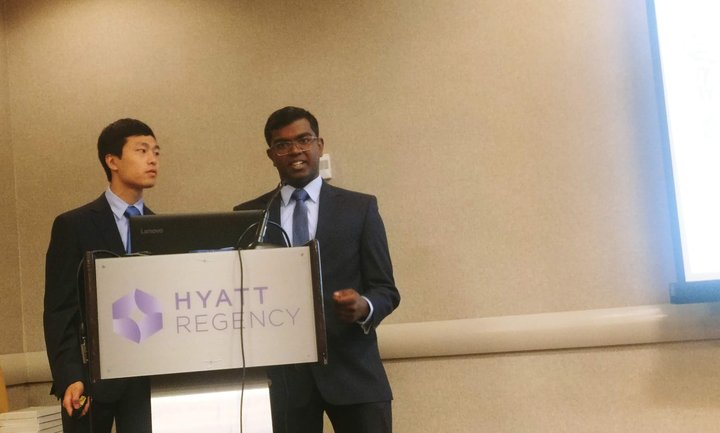 Yujie and Finsam presenting their proposal
What were you most worried about heading into the Finals? The Q&A section, which follows the presentation, is the hardest and most rewarding part of the Finals. It's where your thinking and understanding of your experiment can be seen. It's where you can prove the merits of your proposal. And most importantly, it's real-time feedback of what scientists, doctors, teachers, and others want to know about your project. We were most worried about this section because Q&A is not controlled ⁠— but this unpredictability also makes this section very exciting.
We were quite nervous heading into the presentation room, but once we got into our presentation, we became much more conversational and fluent. Presenting in front of a panel of judges felt completely different from practicing in front of each other or Deniz. It felt more like a discussion, especially after the Q&A section. Afterward, we thought our presentation went well.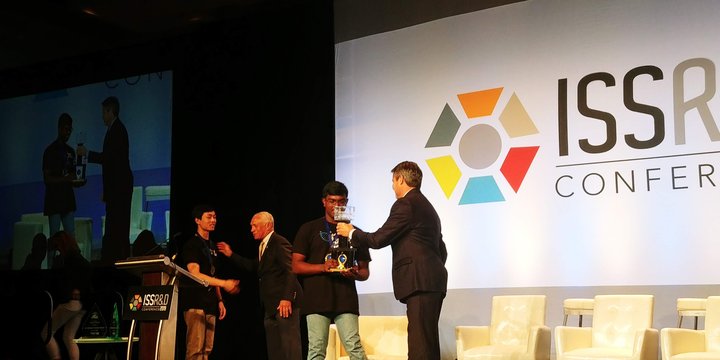 The team receiving their trophy
How did it feel to find out you'd won? We were shocked and overjoyed that our work could be continued. We had completed so much background research that wasn't showcased in the presentation and we were glad this would be useful going forward.
Looking back, what was your favorite part of the conference? At the Genes in Space reception, the founder of the Journal of Emerging Investigators, Dr. Sarah Fankhauser, gave a speech that mentioned each team's proposal, detailing the centuries of science that formed the foundation of each project. She said that we don't suddenly become scientists after we graduate — that we are scientists now. That speech was inspirational. We've heard speeches about how young people should go into science, but her talk was much more personal. According to her, we aren't scientists to-be working in isolation, we're already scientists building on the work of others.