GiS Spotlight: 2018 Finalists Kevin Lin and Jenny Jin
2018 Genes in Space Finalists  Kevin Lin of Lick Wilmerding High School in San Francisco, CA and Jenny Yang Jin of Tatnall High School in Wilmington, DE are currently hard at work preparing for the 2018 International Space Station Research and Development Conference. They are working with mentor Matt Smith to turn their proposal into a presentation for the Genes in Space judges. Here they share a bit about their project and interest in space biology. 
---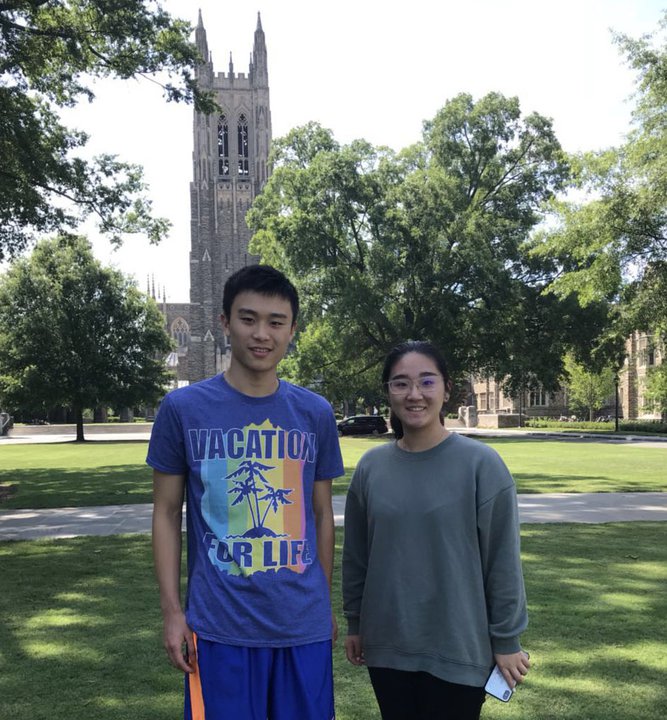 What inspired you to apply to Genes in Space? 
Kevin: I was very interested in being an astronaut when I was young.  Later years, I got really interested in biology. I was very excited when I saw the proposal call from GiS.  I talked to my childhood friend Jenny and we felt that we would have a great opportunity to put in a biology proposal that may have potential to help with astronauts' well-being.
How did you first become interested in science and space?
Kevin: When I was four years old, I was so fascinated by the images in which astronauts are flying freely in the microgravity environment. I asked my parents to get me an astronaut costume for my school's Halloween parade. In 7th grade, I became very interested in science. I had an excellent science teacher who introduced us the anatomy and the functions of the human cells, tissues, and organs.
Tell us a little bit about your topic. How and why did you choose your topic?
Since we were young, our moms have always told us not to eat sweet food after dinner. Sugar is the major reason for cavities and oral gingivitis. In addition, gingiva (gum) is not easy to clean. Our moms also educated us that many other factors, such as anxiety and a weak immune system, also increase the incidence of cavities and gingivitis. Therefore, they encourage us to keep appropriate bedtime and exercise schedule.  All these previous years' brainwashing was really helpful for us to build this proposal. We hope that astronauts can have healthy teeth and happy smiles.
Tell us a little bit about what you have been working on since the Genes in Space Finalist announcement. What has it been like to work with your mentor? 
We immediately started the communication with our mentor Matt. Matt is extremely fun to work with. He has been very supportive and has helped us with a lot of issues and questions that we had with the fields of microbiology and scientific presentation. It also has been very fun to learn from and talk to someone whom we aspire to be one day. We really appreciate that GiS connected us with Matt.
What did you gain by participating in Genes in Space?
Furthering our interest in science, having opportunity to work with the best scientists in the country, and having chance to discuss our proposal with many and speak to astronauts.
Do you have any advice for future Genes in Space contestants? 
Unlike many other scientific competitions, GiS does not require the previous preliminary data to develop a proposal. This confers great advantage for many high school students who do not have access to well-equipped research facility. Therefore, GiS provides a flexible platform to share your interest in science and awards creative minds. If you love science, please read more scientific articles and news and think big in daily life.