GiS Spotlight: 2018 Finalists David Li, Michelle Sung, Aarthi Vijayakumar, and Rebecca Li
David Li, Michelle Sung, Aarthi Vijayakumar, and Rebecca Li were named 2018 Genes in Space Finalists meaning their proposal was one of the top 5 submissions received in the 2018 contest! David is a student at Woodbury High School in Minnesota while Aarthi, Rebecca, and Michelle attend Mounds View High School in Minnesota. The team is currently hard at work preparing to present their proposal to the Genes in Space judges at the 2018 International Space Station Research and Development Conference under the guidance of their mentor Deniz Atabay.  David, Michelle, Aarthi, and Rebecca were also featured by local news. Here they share a bit about their Genes in Space experience thus far. 
---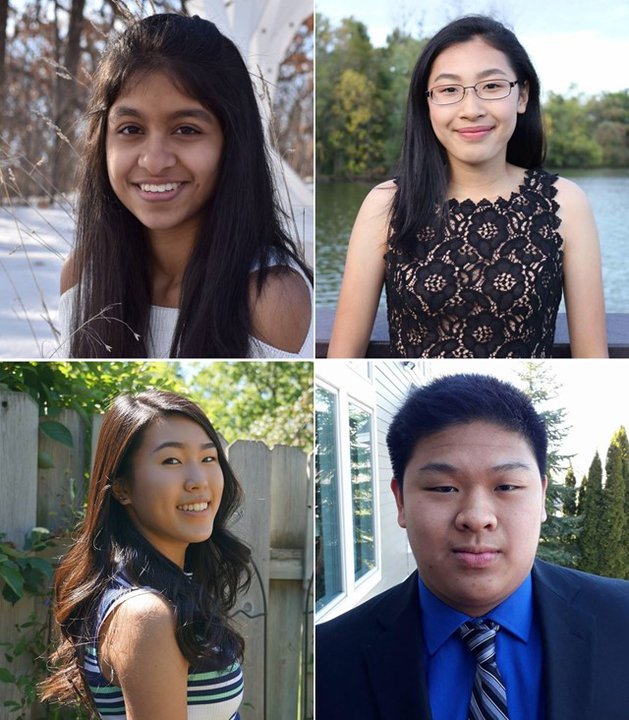 What inspired you to apply to Genes in Space?
All four of us are all passionate about different aspects of biology, ranging from analyzing fossils and cladograms to understanding how DNA is translated into millions of proteins. We wanted to challenge ourselves and gain some insight into space biology.  
How did you first become interested in science and space?
From a very young age, we were all fascinated by science and discovering how the world around us works. We started to explore several different aspects of science and as we grew up, this interest grew as well. By the time we reached high school, we had all decided we wanted to pursue a career in science in the future.
Genes in Space is where we really started to explore how biology could be related to space. We were all relatively unaware of developments in space biology and had seen space and biology as two very different, unrelated fields in the past. But in the last few months, we've learned a lot about how the two are intertwined and found that really interesting as well.
Tell us a little bit about your topic. How and why did you choose your topic?
The idea behind our proposal is to investigate how DNA repair pathways are affected by conditions in space (specifically microgravity). We plan to measure these changes using RNA-seq, Ribo-seq, PCR, and next-generation sequencing.  
We have all conducted some form of biological research in labs at the University of Minnesota, ranging from neuroscience to immunology to DNA repair. Drawing from this experience, we decided to focus on DNA repair. In particular, the CRISPR/Cas9 system generates breaks at specific sites, so we wanted to use it as a tool to explore pathway choice. This topic was something we were all somewhat familiar with, but also something we could explore more deeply in preparation for this competition.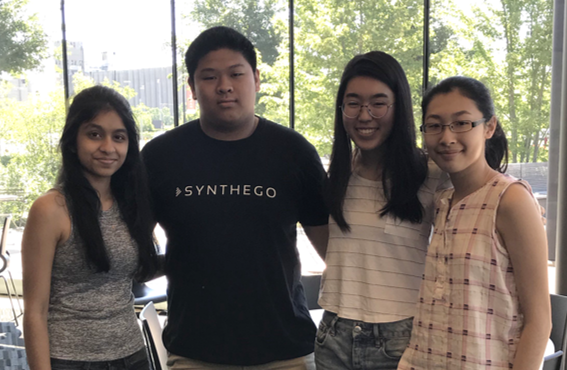 Tell us a little bit about what you have been working on since the Genes in Space Finalist announcement. What has it been like to work with your mentor?

Since the announcement, we've been working to modify our initial idea to the different experiment guidelines in alignment with the competition. We were able to expand on and improve our proposed experiment and use it for our ambitious and freeze-and-fly project. It has been an incredible experience to work with Deniz. Not only has he always been supportive of our ideas and encouraged us to explore further, he has given us valuable input and fresh ideas that we can work with and useful advice on how to give an impactful and fluid presentation.
What did you gain by participating in Genes in Space?
We gained a lot of knowledge about space biology and various laboratory techniques from researching our project. In particular, we were all able to understand a lot about the CRISPR system, which really opened our eyes to the endless possibilities for the future of science. Equally as important, we learned how to creatively solve problems when reaching obstacles and work together effectively as a small team.
Do you have any advice for future Genes in Space contestants?
Keep up to date on research papers so you know where the field is at. Many have interesting results and approaches that can inspire experiments. Also, try to get together often to discuss the project in person; group chemistry is key! 
---