Genes in Space student experiment launches to International Space Station
June 9, 2023 (KENNEDY SPACE CENTER, Fla.) An experiment by Genes in Space 2022 contest winner Pristine Onuoha, 18, of Chapel Hill, North Carolina, launched on Monday to the International Space Station aboard Commercial Resupply Service mission CRS-28. Onuoha, a graduating high school senior, won the competition by proposing a new way to study DNA lengths in space.
Ohuoha's research project tests a novel technique to measure the lengths of telomeres and other nucleic acids as a basis for future diagnostic assays. Measuring the length of DNA fragments is an important part of many molecular biology applications, from molecular diagnostics to understanding mechanisms of genetic damage. Onuoha's inspiration to develop a DNA measuring assay for space stems from the observation that telomeres, genetic structures that protect our chromosomes and shorten with age, have been found to lengthen in space.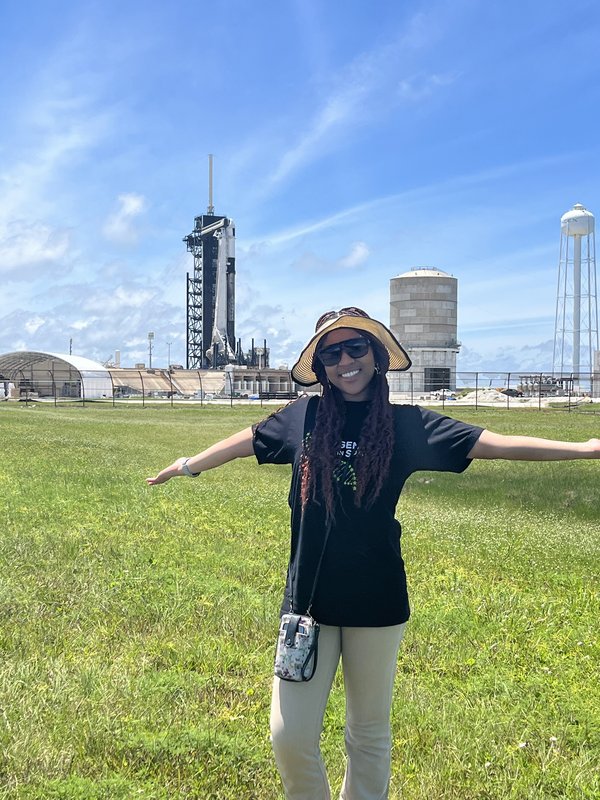 2022 winner Pristine Onuoha in front of the CRS-28 launchpad
"In the development of [this] experiment, something really important was measuring telomere length, but it turns out that isn't something that could really be done on the ISS", Onuoha reflected. "Instead, experiments involving DNA length measurement need to be sent back down to Earth and that takes time and resources. So…I got to thinking 'what if we develop an experiment that could help address that?'"
Onuoha's experiment uses the Genes in Space Fluorescence Viewer, a compact and easy-to-operate tool that allows for visualization of biomolecules, to assess DNA fragment length. Astronauts will first use a miniPCR to make copies of DNA for the target sequences to reach detectable levels. Once copied, the DNA will be stained with a fluorescent dye. Longer fragments are expected to fluoresce more brightly than smaller fragments, yielding a readout that can easily be assessed by eye.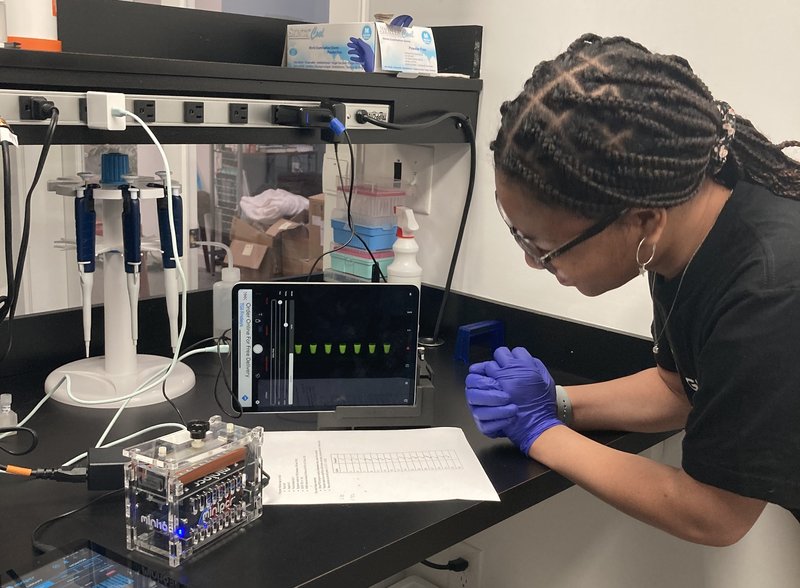 Pristine pilots her experiment
"It's honestly a dream come true," Onuoha said in the moments before launch. "This idea started off in my head and now it's going to be a reality pretty soon, so I'm really excited."
Having moved to the U.S. from Nigeria at age five, Onuoha won Genes in Space as a student from East Chapel Hill High School after hearing about the Genes in Space competition through the school's Women in Stem club. She aspires to become a biomedical researcher, and will attend The University of North Carolina at Chapel Hill this fall. Onuoha was supported by her teacher, Kimberly Manning, and her mentor, Harvard University scientist Ana Karla Cepeda Diaz.
Onuoha's experiment will build on advances made by previous winners of the Genes in Space contest, including the first DNA amplification in space and student-led gene detection investigations. Genes in Space was founded in 2015 by miniPCR bio and Boeing, with additional support from the ISS U.S. National Laboratory and New England Biolabs.
Media contact: Marc Bliss, genesinspace@minipcr.com, 781-990-8727