Genes in Space UAE Finalists Announced
UAE Student Teams Selected as Finalists for International Space Station Science Competition
First UAE Genes in Space experiment to be performed aboard ISS
November 20, 2016, Abu Dhabi, UAE – The UAE Space Agency and The National have announced five finalist teams in the first UAE Genes in Space™ student competition that has the goal of designing an experiment using DNA analysis to solve a real-life space exploration problem.
The finalist set of student proposals include investigations to protect astronaut DNA from radiation damage, engineer biological medicines in space, and assess the impacts of microgravity on human physiology. The winning proposal will be the first UAE student-led DNA experiment performed aboard the International Space Station (ISS) using miniPCR™ technology, scheduled for 2017.
Genes in Space™ aims to inspire collaboration among students in grades seven through 12 and scientists, and to expose students to career opportunities in science, technology, engineering and mathematics.
The five finalist teams will receive mentoring from Harvard University and the Massachusetts Institute of Technology scientists to make the experiments feasible for space research. The teams will present their proposals to a panel of scientists, educators, and technologists at the Global Space Congress in Abu Dhabi, January 31, 2017. The winner will be announced at the conclusion of the conference. Members of the winning team will be invited to watch the launch of their experiment to the ISS from a space center in the United States.
Rashed Murooshid, Advisor Local Media Affairs at Abu Dhabi Media, said: "We would like to offer a very warm congratulations to the five finalist teams on their incredible entries.  The National is extremely proud to support such a prestigious and worthy competition which inspires a generation of young people to get involved in space science.  We believe that the competition perfectly demonstrates just how much fun science can be, and this is reflected in the passionate work submitted by the finalists."
"We wish the teams every success in the next stage of the competition and hope that their work motivates other young people to take a keen interest in space exploration."
"Genes in Space UAE brings attention to the benefits of space exploration and provides opportunities for the next generation to use the International Space Station to solve real world problems," said Peter McGrath, director, Global Sales & Marketing, Boeing Space Exploration. "The intelligence and ingenuity of these students is a great example of how the future generation will continue to keep humanity exploring the far reaches of our solar system and beyond."
The finalist teams were chosen from a competitive group of more than 110 applications involving 225 students across the Emirates. All finalist proposals make use of miniPCR™ technology aboard the ISS. PCR is a method for making copies of a particular sequence of DNA to conduct experiments on that sequence.
The finalists, with their ages listed in parentheses, include:
Karun Isaac (14), from Gems Modern Academy in Dubai, aims to protect astronauts from cognitive decline by studying space-induced changes in brain gene expression.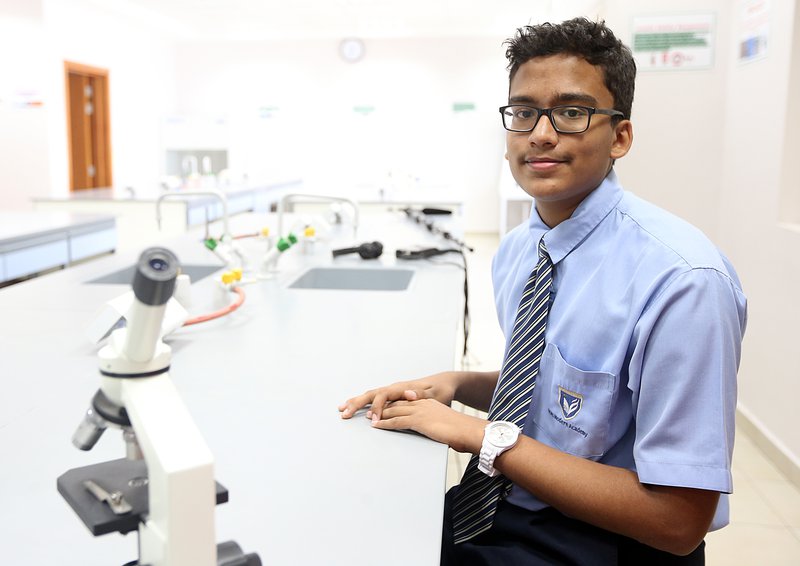 Karun Isaac, from Gems Modern Academy in Dubai. (Photo Credit: Satish Kumar / The National)
Alia Almansoori (14), from Al Mawakeb School Al Barsha in Dubai, whose goal is to study protein expression changes that might help protect astronauts from unwanted cell death.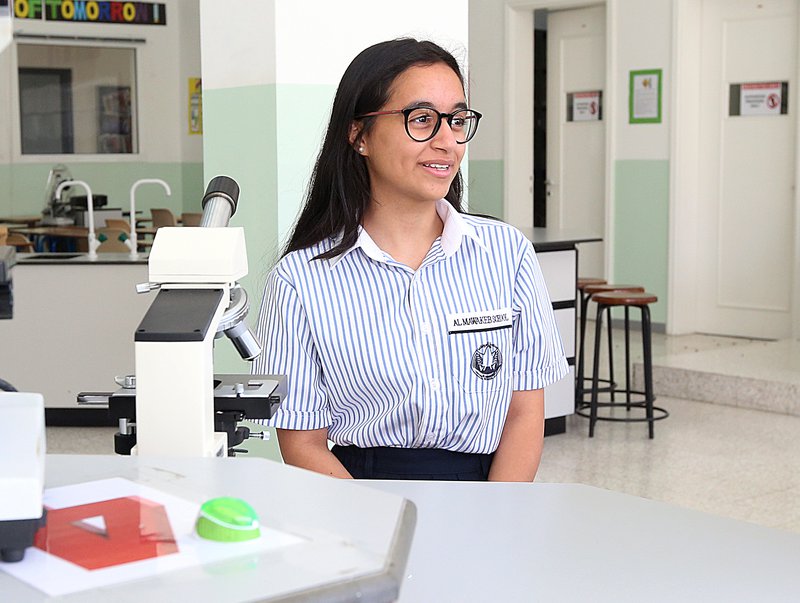 Alia Almansoori, from Al Mawakeb School Al Barsha in Dubai. (Photo credit: Satish Kumar / The National)
Haneefah Badar (14), from Brighton College in Abu Dhabi, seeks new avenues to prevent bone loss during deep space missions, with potential implications for osteoporosis in space and on Earth.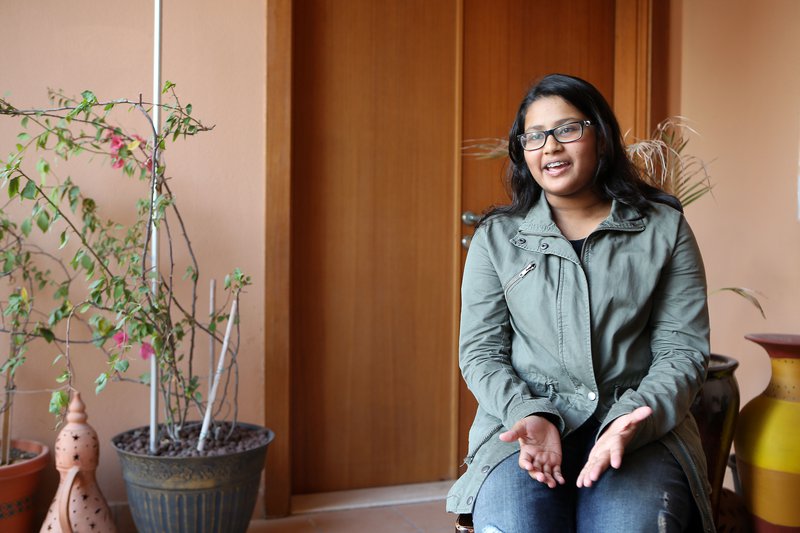 Haneefah Badar from Brighton College in Abu Dhabi. (Photo credit: Pawan Singh / The National)
Zack Rahaman (13) and Nikhil Potula (13), from Brighton College Al Ain in Abu Dhabi, will explore the potential for bioengineered proteins from tardigrades (microscopic aquatic animals that can thrive in space) to protect human genomes.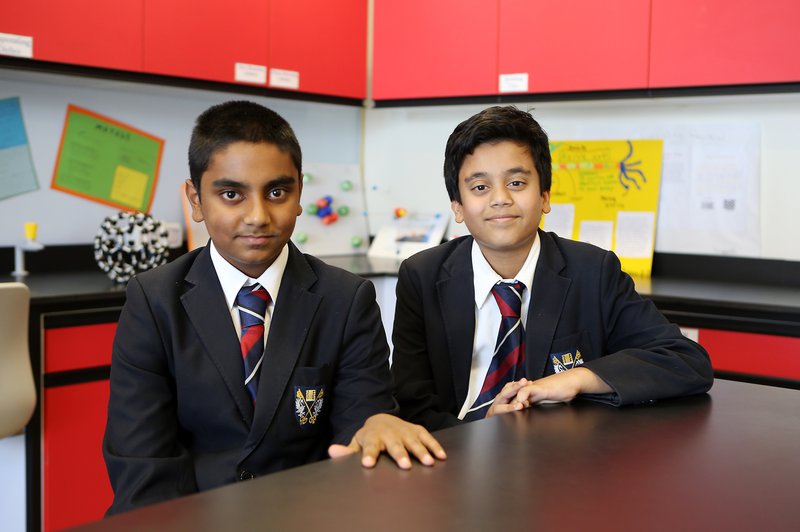 Zack Rahaman and Nikhil Potula, from Brighton College Al Ain. (Pawan Singh / The National)
Wilson Huijsmans (14), Matteo Sottocornola (15), and Akio Shirali (13) of Cranleigh Abu Dhabi seek to enhance the production of genetically engineered proteins and peptides in space, which may ultimately facilitate the production of medicines in space.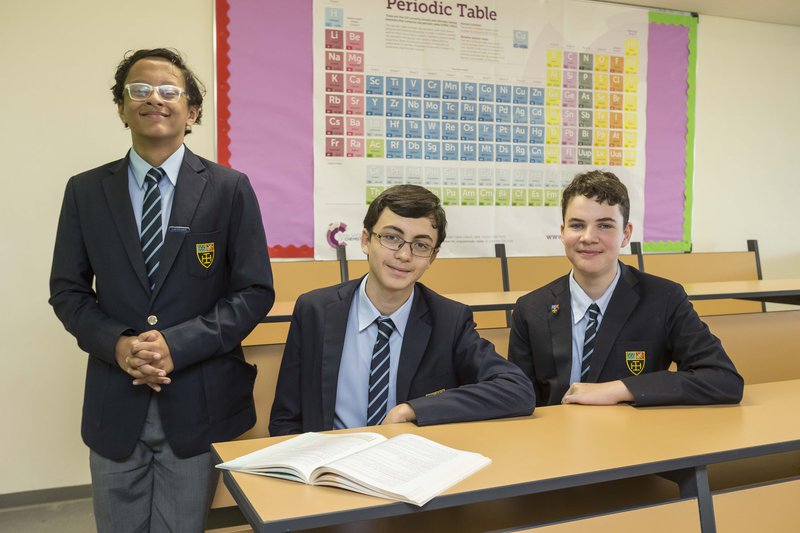 Left to right: Akio Shirali, Matteo Sottocornola and Wilson Huijsmans of Cranleigh Abu Dhabi.(Photo credit: Antonie Robertson/The National)
UAE is the first country to host a Genes in Space™ competition outside of the USA. The Genes in Space™ competition is supported by partners Boeing and miniPCR, and in the UAE by the UAE Space Agency and The National.
For more information about the Genes in Space™ competition and the UAE finalists, visit: www.genesinspace.org.