Noa's Lab Diaries: Genes in Space mentors at work - Day 1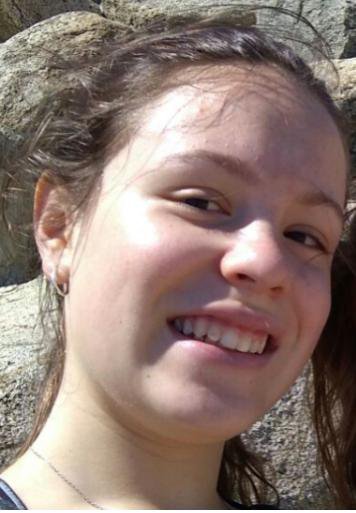 Hi, my name is Noa! I'm currently a sophomore at Commonwealth High School and I have a huge passion for genetics. Back in 2016 when I was in eighth grade, I participated in the Genes in Space competition and received one of the Junior Scientist Awards. Participating in the Genes in Space competition was one of the most exciting experiences for me to learn more about space research and put the knowledge I had into a proposal. I enjoyed participating in the competition so much, that I have come back to visit the Genes in Space mentors. For four days, I visited the mentors' labs and learned about their work and involvement with the Genes in Space program.
---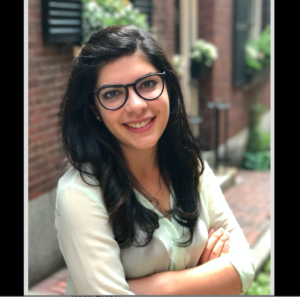 Kiana Mohajeri
Today I spoke to Kiana Mohajeri, a graduate student at Harvard Medical School who works in the Talkowski Laboratory. I got a tour of the Talkowski lab and Simches research building, which mind blew me with how big it was, and Kiana's lab bench, and then we sat down and talked about her research. 
At the Talkowski lab, scientists study pediatric neurodevelopmental disorders (NDDs), such as autism and other conditions with developmental delay and intellectual disabilities. One part of the lab focuses on the large scale genetic mutations of chromosomes such as deletions. They work on creating software to analyze DNA sequences to detect these mutations and identify sites in the human genome where a specific mutation is associated with NDDs.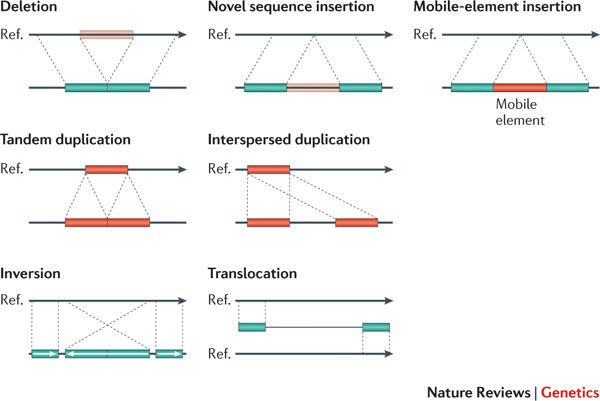 Large scale genetic mutations - Alkan, Coe, and Eichler, Nature Reviews Genetics, 2011
The other section of the lab focuses on understanding how these changes influence neuronal development and function. CRISPR, a technique to change the sequence of the genome, is used to make specific changes in stem cells. These cells then develop into different neuron cells types that can be studied. This works draws the gap between a genetic mutation and the physical effect it has in a patient. 
Kiana's own personal work is a mix of these two arms and focuses on how inversions change gene expression and cause disease. Inversions are a type of large scale genetic mutation when a segment of a chromosome is reversed end to end. She showed me her stem cells that she is growing into neuron cells, and I got to see them under the microscope which was fascinating! She uses CRISPR on these cells to purposely create the mutations for her to understand how they influence gene expression and why they cause neurological disorders.


Kiana's cells at various stages of the CRISPR genome editing process
Kiana says this work is important to help explain and detect neurological disorders in patients. Before specifically turning towards genetics, Kiana was more interested in going to medical school, and she had shadowed many cases where kids with neurological disorders were vaguely told that they had their certain disorder because of some certain mutation, but the reason for the mutation was never understood, and there was never a concrete answer to why the mutation led to the disorder. The research that she is doing now is just the beginning of creating an understanding of these neurological disorders.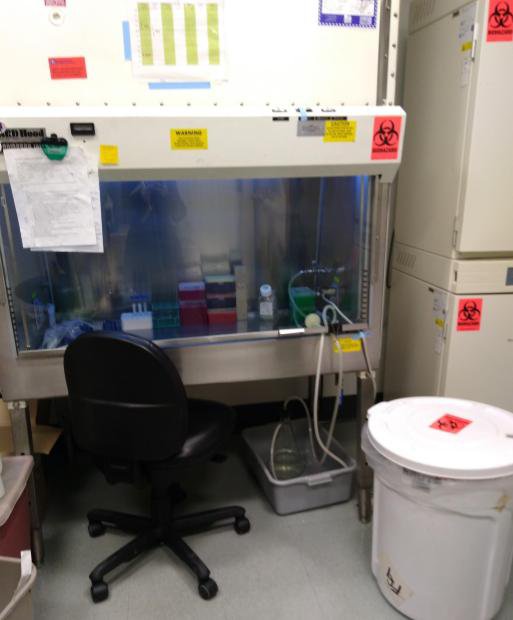 Tissue culture hood at the Talkowski lab
Kiana's interest for biology initially sparked in the classroom. She really enjoyed her first biology class and teacher, and she developed an obsession with biology. Then in her junior year of high school, she had the opportunity to join a lab. She had an amazing mentor at this lab who nurtured her interest in biology into something deeper. Kiana expressed that it was a powerful experience to work with someone who had the same passion for biology who was there to support and help her. Then throughout her college career, she continued to work at several other labs.
This mentoring experience inspired Kiana to become a Genes in Space mentor. She told me that she really enjoyed her time working with the Finalists, and that she admired their hard work and dedication that they put into their project. Her favorite part was the general process of transforming a Genes in Space proposal into an official experiment. For her, it was exciting to see the Finalists create a project in front of her eyes without her being a controlling factor. Reaching a final product was very rewarding.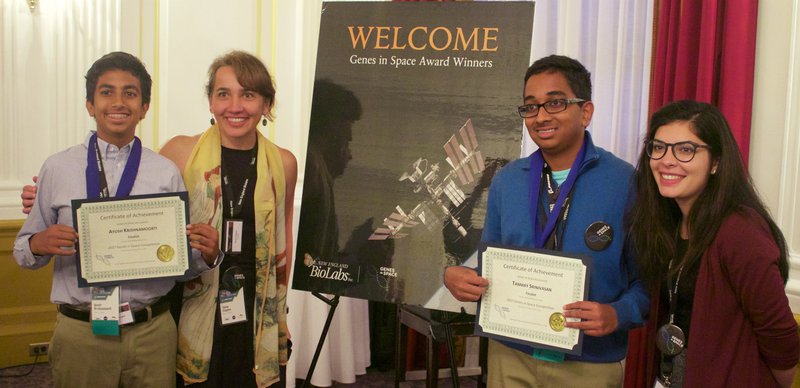 Kiana with mentees Tanmay and Ayush and their teacher Dr. Clayton
I closed by asking Kiana if she had any advice for students who wanted to participate in the competition and she said that she thinks the most important part is to not be afraid to ask a question and to not restrict yourself in your proposal! She also recommends watching the Genes in Space live chats. On a more practical note, she says it's important to start early to allow optimal time and discuss your idea with adults in the field of science and outside of it. From personal experience, she has learned that having other people's opinions on your work in extremely beneficial because others can pick up on parts that are missing or unclear. Ask for other people's standpoints on your idea to refine and better your proposal!
Meeting with Kiana was a very eye-opening experience! The work that she and the rest of the lab are doing is very fascinating. I was very excited to have been able to see the behind the scenes work of what the Talkowski lab is doing. Stay tuned, next time I'll be headed to meet Holly Christensen at MIT! 
---