Lab in a Box midterm report
Our Lab in a Box biotechnology loan program is right in the midst of its fifth year. As the spring semester gets underway, we wanted to pause and look back on the classrooms we touched during the fall 2021 semester.
This fall, we shipped 12 loans, reaching a total of 665 students across 10 states. Lucky loan recipients included:
Higgins Community Academy in Chicago, IL
Indigo Middle School in Aptos, CA
St. Barnabas Episcopal School in DeLand, FL
Sunnyside High School in Sunnyside, WA
South Cobb High School in Austell, GA
Virginia High School in Bristol, VA
The McLean School in Potomac, MD
Masconomet Regional High School in Boxford, MA
Charles Herbert Flowers High School in Springdale, MD
Green River High School in Green River, WY
Satellite High School in Satellite Beach, FL
East Carter High School in Ellsinore, MO
---
Spotlight: St. Barnabas Episcopal School
Stephanie Whitman's middle-school classroom at St. Barnabas Episcopal School in DeLand, FL, received a Lab in a Box loan early in the fall semester. Though Ms. Whitman's students had not had much hands-on experience with biotechnology, their Earth and Space Science curriculum was a great fit for the Genes in Space Food Safety Lab activity that comes with each loan.
Ms. Whitman reflects, "[My students] were able to connect PCR technology with real-world science, and they gained terrific hands on experience with pipetting and DNA information. I learned so much and so did my students!"
Check out the photos below to see these young scientists in action.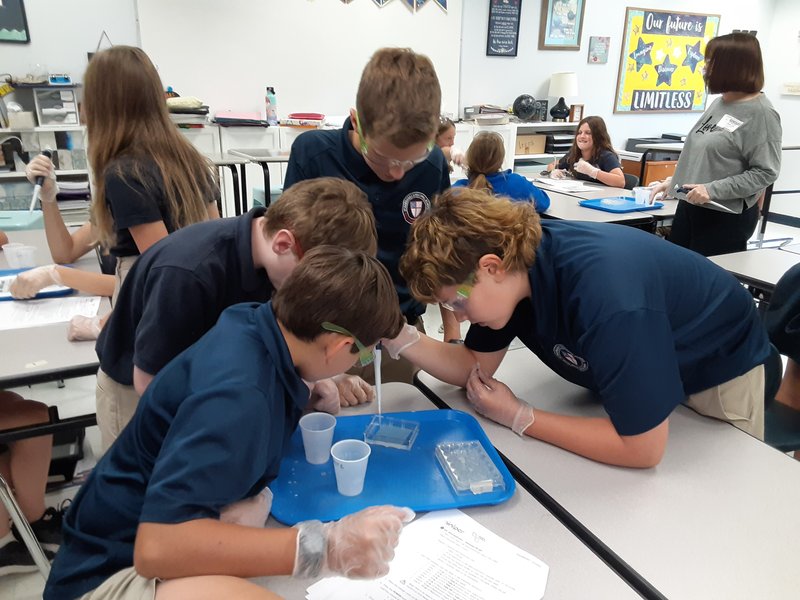 The application for Lab in a Box 2022-23 will open in April 2022. Teachers: Join our waitlist and we will contact you when the application opens.
---