Lab in a Box 2020-21 year-end roundup
Since its founding in 2017, the Lab in a Box equipment loan program has put ISS biotechnology in the hands of nearly 6,000 students through a total of 93 classroom loans. The program has proven useful even through the pandemic, as participating teachers used the equipment to offer virtual demos to their students.
As we wrap up the 2020-21 school year and look forward to fall 2021, we look back to spotlight some of the teachers who engaged their students through Lab in a Box during a most unusual school year.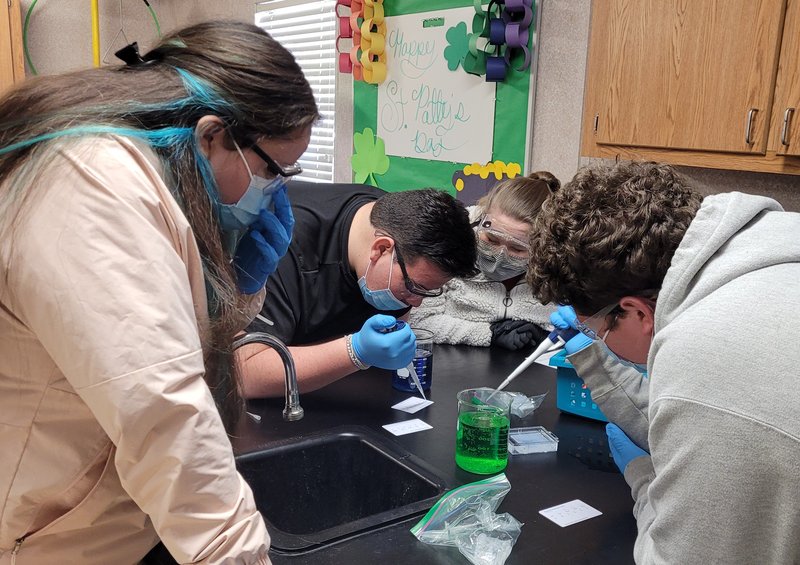 Micropipette practice with Duplin Early College High School students
Duplin Early College High School, Kenansville, North Carolina
The Lab in a Box ships with PCR thermal cyclers, electrophoresis systems, and micropipettes — all tools that were new to teacher Kristen Kane's students. "All but one [of my students] had never used this technology before," she says. "They enjoyed working with the pipettes, and it allowed many of them to make great connections to what we learned in class." We are proud to have supported Ms. Kane's students during a tumultuous year and glad the Lab in a Box experience was a fruitful one for them! Click through the photos below for more highlights from Duplin's loan.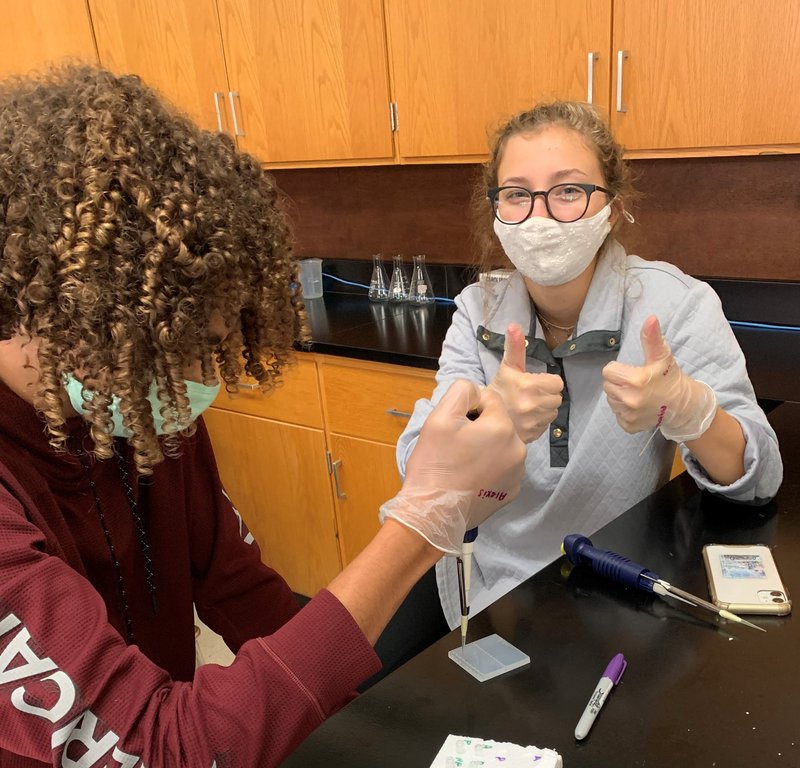 A Virginia High School student warms up her pipetting thumbs
Virginia High School, Bristol, VA
In October, we shipped a Lab in a Box kit to teacher Jinx Rasmussen, who was eager to supplement the biotechnology concepts she teaches about with practical, hands-on experience. "I wanted my students to experience labs on a higher level than I could do. The use of the equipment is a game changer," she says. By taking part in her Lab in a Box lesson, Ms. Rasmussen's students were able to make valuable connections to the present COVID pandemic. She says, "They now know how the technology works. The fact that they do PCR to test for COVID was a real eye opener." Thanks to the Virginia High School team for taking the leap into biotechnology with us! Check out more highlights from their loan in the photos below.
Young scientists at Woodmore High School take on Lab in a Box
Woodmore High School, Elmore, OH
Teacher Ellen Ralston broke new ground in implementing Lab in a Box in her classroom. "This was the first time a PCR was run in my entire district!" she said. Despite the newness of the tools, she and her students felt confident in implementing the new technology. "This was pretty foolproof because of the excellent instructions," she said. "It was so amazing for my students to participate in a successful lab experience and be certain that their results were accurate." We are proud to support you in pioneering biotech in your district, Ms. Ralston! Click through the gallery below for more from the Woodmore crew.
---
Interested in Lab in a Box?
Join our waitlist to be notified when our application opens for the 2022-23 school year. Click here to learn more about what's included in a loan.
---