GiS Spotlight: Junior Scientist awardee Ksenia Podoltseva
Each year, we honor 5 outstanding submissions from 7th and 8th graders with Junior Scientist Awards. Of the 602 submissions we received this year, more than 250 were contributed by middle schoolers, so the competition was stiff!
Today, we shine the GiS Spotlight on one JSA winner: Ksenia Podoltseva (13) from The Country School in Madison, CT, who wants to find a solution for vision impairment caused by space travel.
---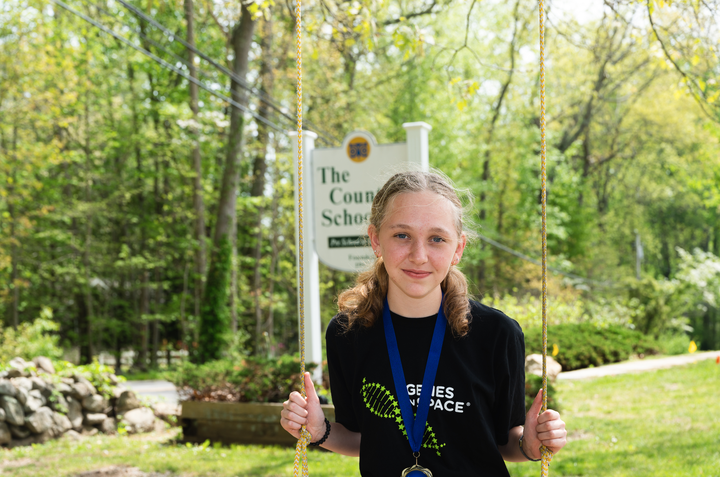 What was the focus of your experiment? In space, low gravity allows more than half a gallon of fluids to gather in the head, putting great pressure on the eyeballs and interfering with vision. This is called SANS, Spaceflight-associated Neuro-ocular Syndrome. Similar to SANS, glaucoma elevates eye pressure, so, I propose implementing Drug-Eluting Contact Lenses soaked in Latanoprost drops, a common prescription for glaucoma, and evaluating common genetic markers related to intraocular pressure expressed in ocular tissues during glaucoma, GAS7, and TMO1.
Why did you choose to participate in Genes in Space? At the Country School, we have a STEAM and biotechnology program, and Genes in Space provided me with the perfect opportunity to apply what I have learned in science class to the real world.
How did you choose your topic? While researching ways to improve space travel, I discovered SANS, Spaceflight-associated Neuro-ocular Syndrome, which includes symptoms like swelling of the optic nerve, progressive flattening of the eyeball, and vision impairment. I was inspired to learn how I could solve this problem.
What did you gain by participating in Genes in Space? From my classmates' proposals as well as from my own research, I learned that there is still much to improve in space and that it is my generation's responsibility to take action. I have benefitted from this entire Genes in Space experience: researching space problems, selecting vision impairment and developing my idea to solve the problem.
Do you have any advice for future Genes in Space contestants? Choose a topic you are passionate about and pick one that has not been answered previously. Use your resources, don't be afraid to ask questions, and learn from others.