GiS Spotlight: Evan, Joseph, Anthony & Tristan
Each year, we honor 5 outstanding submissions from 7th and 8th graders with Junior Scientist Awards. This year, earning a Junior Scientist Award was no easy feat — more than half of the 630 proposals we received were submitted by middle school teams!
Today, we shine the GiS Spotlight on one JSA-winning team: Evan Keppy (14), Joseph Steiner (14), Anthony Dicciardello (14) and Tristan Hart (14) from Thunder Ridge Middle School in Centennial, CO, who want to understand how cosmic radiation impacts astronaut bone health.
---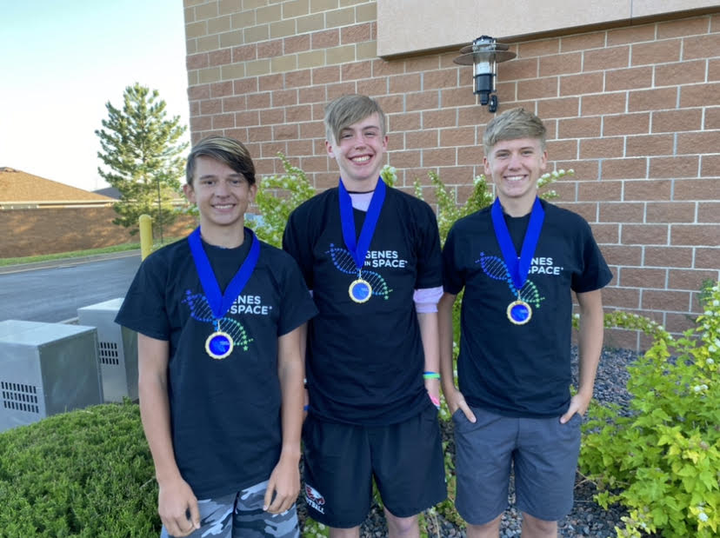 Right to left: Evan, Joseph, and Anthony (not pictured: Tristan)
Why did you choose to participate in Genes in Space? Our group knew that it would be a great learning experience to see what scientists actually do and what is needed to create an experiment that would go to space. Our teacher, Trey Griffin, highly encouraged us to participate as well. Without him, we would've never known about this awesome program!
How did you choose your topic? Our group discovered that cosmic radiation in space can alter genes. This fascinated us and caused us to research a specific gene that is important in osteoblasts, Cbfa-1. When Cbfa-1 is altered, studies on Earth have shown that bones become significantly weaker. Our group proposed that if cosmic radiation altered the Cbfa-1 gene, astronauts could be at risk of severely weakened bones.
What did you gain by participating in Genes in Space? We gained a better ability to write and form scientific proposals that clearly present what is being proposed. This skill will definitely help all of us in the future as we will be able to create higher-level hypotheses and proposals. Our group also was able to learn what it's like to actually think like a scientist and create something with that mindset. It's definitely more challenging than one would assume.
Do you have any advice for future Genes in Space contestants? Find a unique thing to research and be as concise as possible. Going the extra mile in quality is what makes a good proposal a great one.