GiS Spotlight: 2016 finalists Amy and Chabelis
Amy Gu recently graduated from Buckingham Browne & Nichols School in Cambridge, MA and will start study at Harvard College this fall. As a child, one of her favorite books was entitled "Earth and Space;" she remembers reading it several times.
Chabelis Byamana also recently graduated from Buckingham Browne & Nichols School in Cambridge, MA and will study at Washington University in St. Louis. Since childhood, she was always interested in science, specifically biology and how to maintain good human health.
The two girls both enrolled in Dr. Karina Baum's Experimental Biology class in their senior year. Dr. Baum, a former schoolmate of miniPCR co-founder Sebastian Kraves, learned of the Genes in Space competition and encouraged her students to submit proposals. Chabelis and Amy found a NASA study that mentioned how viruses had reactivated in space, which intrigued them, so they centered their proposal around this topic. After further research, they chose to hone in on Epstein-Barr virus (EBV), for its ease of testing, its ubiquitousness—over 90% of the human population has been infected—and its link to cancer.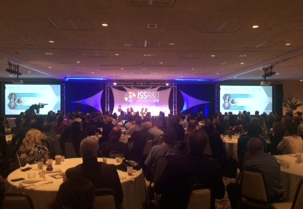 In their final presentation, they explained how they hypothesized that microgravity adversely affected the T cells that normally restrain latent EBV infections, thereby allowing EBV reactivation in space. To test this, one can infect a mouse model with the virus, launch half into space while keeping the others on Earth as a control group, and monitor the expression of T cell activation genes and EBV reactivation genes.
However, their proposal evolved many times before this final version. Along the way, both Dr. Baum and their Genes in Space mentor, MIT graduate student Mina Kojima, provided invaluable help. Dr. Baum looked over their initial drafts with a sharp eye and always managed to spot big-picture experimental design weaknesses. Mina helped them broaden their hypothesis—which had narrowly focused on a specific protein complex before—into one that better acknowledged the complexities of the immune system and guided them through meeting the restrictions onboard the ISS.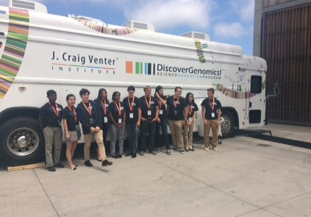 In addition, the two mentors provided laughs and emotional support. Dr. Baum loved relating crazy stories and playing the game Heads Up with her students. Although she could not join her students in San Diego because of a pre-planned trip, she emailed them daily with words of encouragement. Besides her help prior to the girl's leaving for San Diego, Mina was always ready with a hug and a smile during the conference. Both Amy and Chabelis hope to stay in contact with her and hopefully visit her at the MIT labs.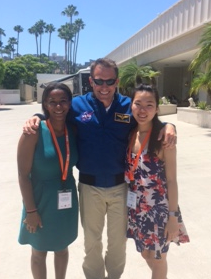 Amy's favorite moments in San Diego included playing rock-paper-scissors with NASA astronaut John Cassada and ogling the inventions on display, such as a 3D printer, an orca-whale-esque reusable space shuttle, a space veggie rack, and the miniPCR. Like Amy, Chabelis enjoyed getting to interact with astronaut John Cassada. She also enjoyed getting to hear the Kelly brothers answer questions as well as hearing perspectives from women in STEM.
Their advice to future contestants is to just relax and have pride in their presentations, to explore other parts of San Diego, and really take the time to get to know the MiniPCR team and the other contestants.