GiS 2022 Winner Pristine Onuoha speaks at Morehead Planetarium
On Friday, September 16, GiS 2022 Winner Pristine Onuoha gave a talk about her prize-winning experiment to her fellow peers at The Teen Science Cafe at University of North Carolina-Chapel Hill's Morehead Planetarium. About the event, Pristine said, "It was a great opportunity to inspire more people to participate in Genes in Space!" Thank you, Pristine, for being such an outstanding ambassador for Genes in Space!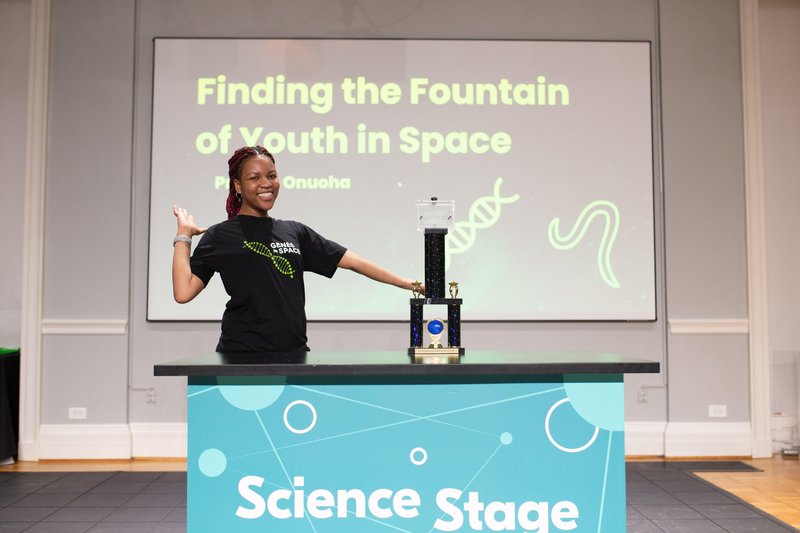 Pristine showing off her Genes in Space trophy
Here is the description of her talk and some photos from her presentation. You can tell she is having a great time!
---
Finding the Fountain of Youth in Space: Investigating the Role of Stem Cells in Spaceflight Telomere Elongation Up in space, astronauts experience physiological changes reminiscent of aging such as muscle atrophy, loss of bone density, and stiffened arteries. However, they have been found to develop "longer" cellular telomeres at the same time. Because longer telomeres are linked to youth, this suggests that spaceflight could paradoxically be the cellular "fountain of youth" for astronauts. Our speaker will discuss this perplexing phenomenon and also dive into an active research proposal that will investigate whether the process is linked to stem cells.
About our speaker: Pristine Onuoha is a 17 year-old senior at East Chapel Hill High School who loves learning about how life works and real world applications of those questions. Pristine was named the 2022 Winner of the Genes in Space Competition for her space biology research proposal. As a result, Pristine will be working with scientists to develop this proposal for actual implementation aboard the International Space Station in 2023!
About Morehead Planetarium's Teen Science Cafe: Want to talk with scientists about their work? Meet other teens who like science as much as you do? Share your ideas and learn what others think, too? Teen Science Cafe is for you! This program is just for young adults, ages 13-18, and it's free! Click here for more information.