Genes in Space workshops in New York, Austin, El Paso, and Atlanta
It's been a very busy month for Genes in Space! We've been traveling the country for workshops and educator conferences. 
On March 1st Genes in Space co-founder Scott Copeland and team member Emily Gleason gave a short workshop to educators at Math for America headquarters in New York City. We were joined by Genes in Space award winning teachers Jessica Quenzer of Stuyvesant High School and Lisa Lowenstein of Arts and Letters, Lab in a Box teacher Chuck Vessalico of Lynbrook High School, and his student Koby Lazar who generously formed a panel to answer teachers' questions about Genes in Space. Thank you to our panelists, generous hosts, and to all the teachers who attended for a fun night!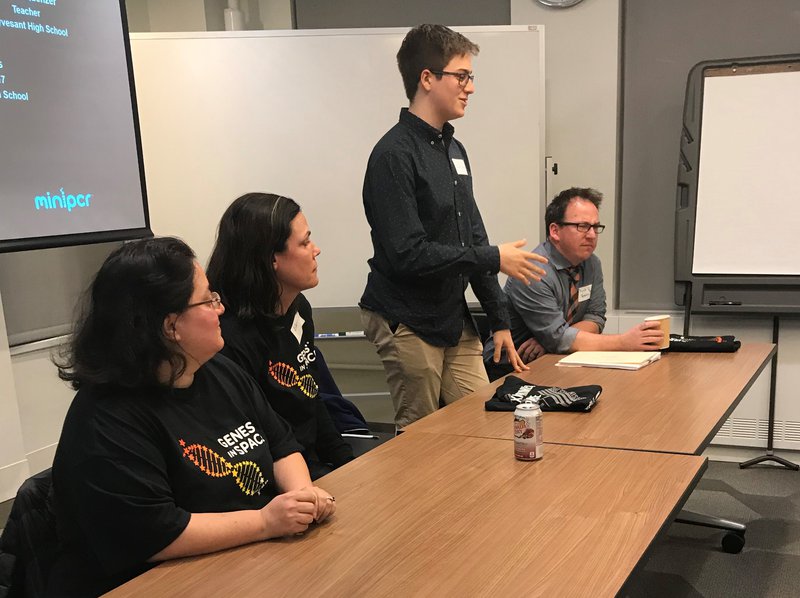 Panel discussion at MfA headquarters
On March 5th and 6th Genes in Space was in Austin, TX at the SXSW Edu Conference where we spoke to students and educators at the exhibit hall and participated in a panel discussion. The panel included Genes in Space co-founder Sebastian Kraves, 2015 winner Anna-Sophia Boguraev, and Lab in a Box teacher Camille Merck. They were joined at the conference by Scott Copeland and miniPCR team member Robert Dennison.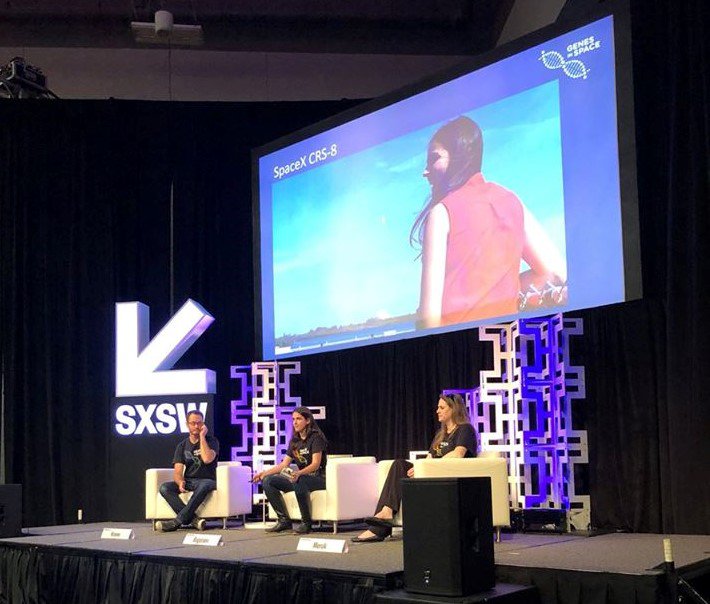 Panel discussion at SXSW Edu
On March 7th Scott Copeland and Emily Gleason traveled to El Paso, TX for a hands-on workshop at the Cardwell Collaborative hosted by Guadalupe Tapia of Silva Health Magnet High School and Jackie Butler of Medical Center of the Americas Foundation. The teachers and some of Ms. Tapia's students participated in a Genes in Space brainstorm and had the opportunity to use the same miniPCR equipment that is in use aboard the International Space Station. Pictures from the event are included below. A huge thank you to our generous hosts and all who participated for a successful day! 
Finally, we traveled to Atlanta, GA for the National Science Teachers Association (NSTA) National Conference where we met a number of educators in the convention exhibit hall and gave two Genes in Space workshops. The first workshop was an introduction to Genes in Space where educators learned how to integrate Genes in Space into their curriculum and had a chance to brainstorm their own proposal ideas.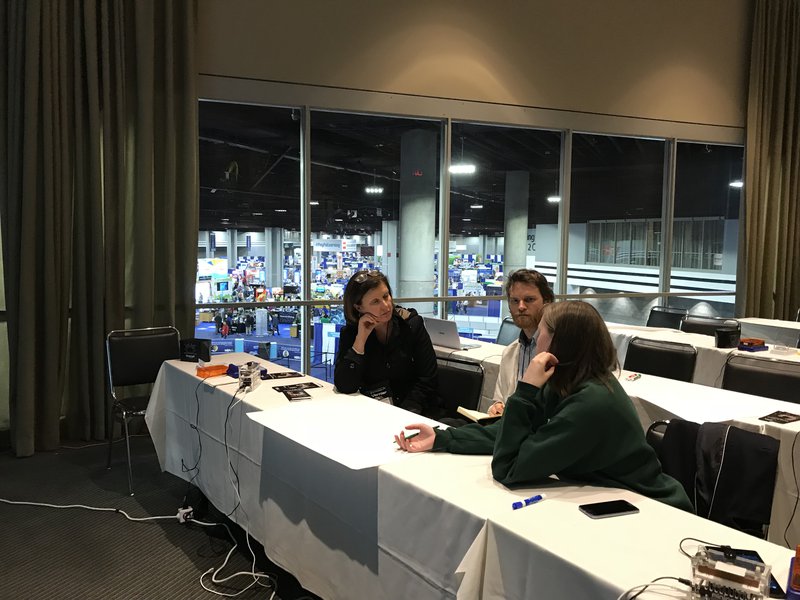 Educators brainstorm Genes in Space proposal ideas at the NSTA National workshop.
The second workshop focused on our Lab in a Box biotechnology loan program. We discussed the success of the program so far and how to request a loan for next school year. Two Lab in a Box teachers also spoke about their experiences; Jennifer Allsbrook of Polk County High School in North Carolina and Justina Russell of Griffin High School in Georgia. A huge thanks to both teachers for their contribution to the workshop!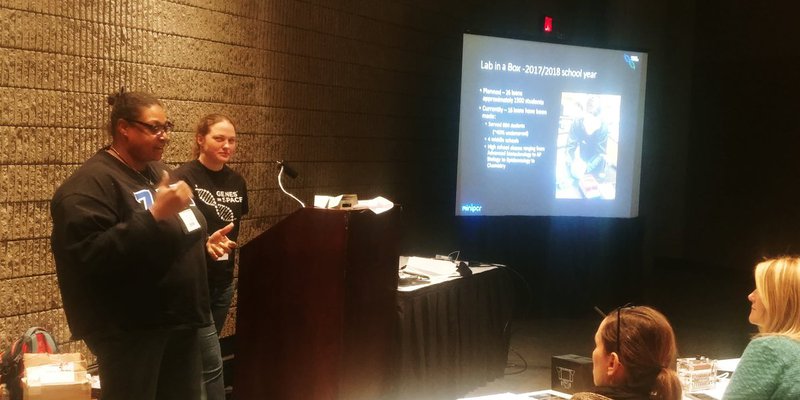 Justina Russell of Griffin High School speaks about their Lab in a Box loan.
Thank you to everyone who contributed to one of our events and for making March a great month for Genes in Space!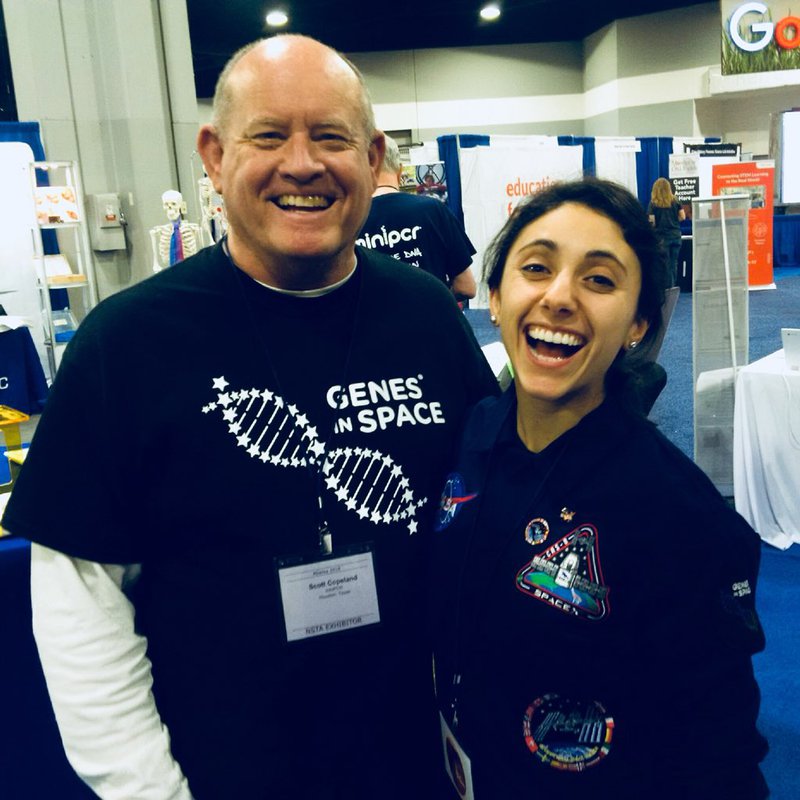 Genes in Space co-founder Scott Copeland and team member Alia Qatarneh.